WISHBONE ASH Elegant Stealth ZYX (2011)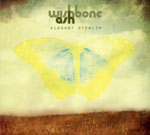 One of our hardest working bands and - thankfully - one that we see fairly regularly in the UK, Wishbone Ash are also one of our treasures. And their latest album marks a wonderful return to top form. It may not be fashionable to like this band but you'd be a fool to ignore them.
Always standard-bearers for the melodious twin-guitar assault, 'Elegant Stealth' is awash with great playing and great songs that whilst evoking the spectre of Classic Ash, follows on from 'Clan Destiny' (2006) and 'Power Of Eternity' (2007) in making the band still sound relevant.
Ash under Andy Powell have never been ones to shirk experimentation or variety but 'Elegant Stealth' is merely full of rock solid rhythms and infectious guitar hooks: in fact everything you really want from an Ash album.
They can even afford a dalliance with Irish folk and Pat McManus' violin which permeates 'Can't Go It Alone' an otherwise straight-ahead song that the band have been playing on recent tours and which climaxes with a typically lyrical Powell /Muddy Manninen exchange.
Elsewhere 'Reason To Believe' is one of their more commercial recent offerings (and a single last year) whilst 'Give It Up' makes you recall just how guitar bands like Thin Lizzy stole a trick or two from one of England's Finest back in the early seventies although the vocal harmonies could be off an America album.
The album only dips with 'Searching For Satellites', a mid-tempo song that is in truth a bit ordinary but the pace soon picks up again with 'Heavy Weather' and a rocking instrumental - 'Mud-Slick' - with Don Airey helping out on keys.
'Big Issues' and 'Migrant Worker' show the funkier side of the band, the former giving the guitarists a chance to unwind against the ever-present solidity provided by Bob Skeat (bass) and Joe Crabtree (ex-Pendragon on drums).
And on this album the band - always progressive in the widest sense - allow themselves the indulgence of a hidden track, a dance remix of 'Reasons To Believe', further attesting the sheer confidence - and conviction - that characterises this album.
****
Review by David Randall
---
| | |
| --- | --- |
| | Print this page in printer-friendly format |
| | |