WARRANT Dirty,Rotten,Stinking Rich/Cherry Pie/Dog Eat Dog
3-CD set (2011)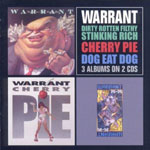 Warrant was originally formed in 1987 in LA. Following personnel changes and after making a name on the LA club circuit with the likes of Motley Crue and Poison they were signed to Columbia.
1989 saw their first offering Dirty, Rotten, Filthy Stinking Rich released, this was received with some acclaim and plenty of air time on MTV. Standout tracks are 32 Pennies, Big Talk and Cold Sweat. **
Their second album Cherry Pie was released early 1990 and proved a bigger success. They toured with Motley Crue and David Lee Roth and at one point headlined their own tour, their fan base had increased considerably following this exposure. Standouts include Uncle Tom's Cabin, Sure Feels Good and Cherry Pie. **½
The early 90s saw the emergence of a new genre of rock, Grunge, and this started to become the demise of the band as it was known. But despite this they released another album called Dog Eat Dog which had a slightly darker and harder edge to it. Standouts are Machine Gun, Bonfire, Inside Out **½
Despite the good sales fans started to think Warrant were attempting to get on board the grunge train with this change in direction but it was too late...a version of Warrant does still tour but only in their home area of LA.
Warrant were a band of their time and the Glam metal scene which only a few survived such as Motley Crue, perhaps they didn't have the staying power or fight to stick to what they did best...good time rock 'n roll. Most fans will have these albums however they are worth a listen for some bounce around the room tunes.
****½
Review by Mark Woodhead
---
| | |
| --- | --- |
| | Print this page in printer-friendly format |
| | |