Just witnessed your best live gig?.. send us a review!
WALTER TROUT/POPA CHUBBY
Islington Academy, London 24 November 2011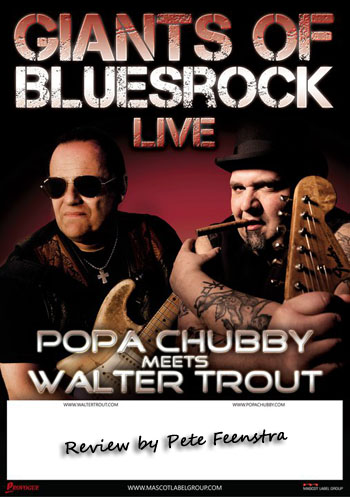 The west and east coast pairing of Californian Walter Trout and New York heavy weight Popa Chubby goes back to the mid 90's when the two appeared on the Dutch 'Jimi Hendrix Music Festival' CD.
Nearly 15 years on, the spirit of Hendrix remains very much part of Chubby's hard hitting set and remains a significant influence on Walter Trout. That said, the popularity of both guitarist resides in their own unique approach to Blues rock, hence the tour banner 'Giants of Bluesrock'.

Given that both artists have headlined the tour in different countries, presumably the idea is to break new audiences for both and given the recent rapturously received sell out at the legendary Olympia in Paris, and several big crowds in Germany things are going according to plan. Back in the UK things were a bit slower but come show time the 02 was well populated and the vociferous crowd was treated to three hours of scintillating rocking blues.
For his part, Popa Chubby was like a cartoon come to life. Even when perched on a tall bar stool he still seemed to dominate the stage as he strained every fibre of his body from feigned head butts to sudden jerks of his body to indicate a change of tempo. Indeed, to witness Popa Chubby live is to experience the physical theatre of riff driven blues.
The songs ranged from the Freddie King feel of 'She Loves Everbody But Me' and the staccato guitar lines, crashing cymbals and slow burn of 'Pound of Flesh' to one of his very best songs of the night, the heart felt ode to his fans, 'Its About You'.
He further stretched out with some muscular guitar work on an expansive instrumental and leant into the more restrained 'Grown Man Crying Blues', which featured short burst of note clusters, contrasting melodic lines and one of his most emotive vocals of the night.
And it is Chubby's impassioned vocal style that makes him different from the rest, as he shifted the emphasis of his phrasing from growling brooding intent to soaring majestically, while dosing his crowd with some high register notes bathed in echo reverb.
Chubby doesn't so much work up a sweat as bludgeon his crowd with powerhouse rocking blues. And such was his impact that when he came to the Hendrix section of the night, he'd had already done the hard work by whipping up his crowd's excitement levels before providing 'Hey Joe' with fresh spark while adding deft touches to 'Little Wing'.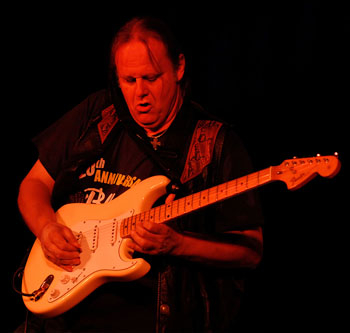 Photo: Steve Goudie
And so to Walter Trout who remains a class act. Much is made of his relentless wall of sound, but as he showed tonight his music works on different levels, ranging from intense rocking to balladic melodies and blues injected emotion.
Much like Chubby, there's an air of spontaneity about his show, with perhaps only the long time intense guitar/Hammond driven set opener, 'Dust My Broom' being in any way predictable, though it still set the bar high for the rest of the set.
And with some twenty albums to choose from, Walter dipped into his early back catalogue for intensely riffed 1990 'Life in the Jungle' and then took a quantum leap forward of some 18 years to the sumptuous funky groove of 'Gone to Long'. The song was driven by Rick Knapp's lilting bass line and Sammy Avila's voluminous Hammond while Walter added a majestic tone.
Guest vocalist Andrew Elt also made the first of 3 appearances on the melodic rocker 'Helping Hand' and returned to display a stunning range on 'Have Mercy', which proved to be a supreme example of just how powerful rock/blues can be.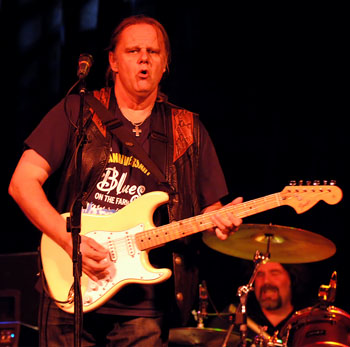 Photo: Steve Goudie
In between those two songs Walter brought a hush to the room as he dedicated his Dutch hit 'Say Goodbye to the Blues' to 'Big Derek' another in the sadly increasing list of lost friends and acquaintances.
But Trout turned a sombre blues inside out with a humorous quip at the end of the song, when after some virtuosic volume swells he told us someone had said his playing sounded like the celebrated cellist Yo-Yo Ma, to which he quipped, 'this is the blues ... its about yo momma'.

And so to the much anticipated jam between Trout and Chubby which proved to be as much contrast in stature as the difference between Chubby's piecing runs and Trout's quivering vibrato.
Tonight's show confirmed two things, there's no substitute for a meeting of charisma and great musicianship and this exuberant double helping confirmed the substance of the 'Giants of Bluesrock' tour brand.


Review by Pete Feenstra
Photos by Steve Goudie
---
Interview (Popa Chubby)
---