Just witnessed your best live gig?.. send us a review!
VINTAGE TROUBLE, The Social, London 15 June 2011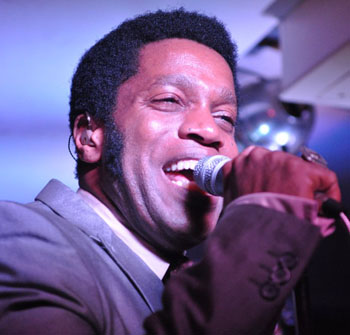 L.A hotshots Vintage Trouble first made a name for themselves here in the UK after a blistering performance on the Jools Holland Show. Since then the band have been hard at work on both sides of the pond either playing in small sweaty clubs or supporting major acts in the arenas.
If Jimmy Page had listened to Sam & Dave rather than the blues then you would have a good idea of what Vintage Trouble are about.
Taking their cue from vintage blues and vintage soul ,this combination makes Vintage Trouble. Led by Ty Taylor, the former Baptist church singer has brought his childhood roots to the front and made a pact with the devil of rock 'n roll.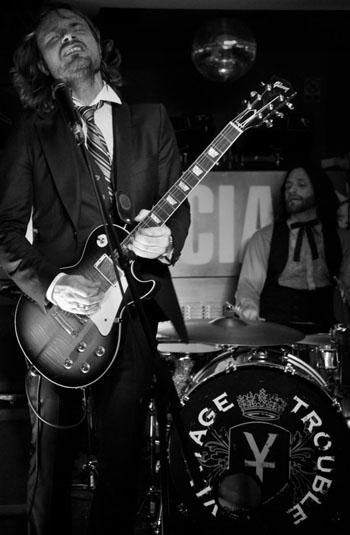 With a fine hard hitting rhythm and blues band behind him Vintage Trouble mean some mean business. Managed by Doc McGhee, the man who guided the careers of Bon Jovi and Motley Crue, you have a good indication of what is expected in the future for this unique band.
Tonight is a private show held in The Social, an uber cool bar in Central London just behind the busy Oxford Street area. Upstairs the bar is selling cocktails, downstairs where the gig is taking place there is not much space to swing for these cool cats.
The stage is no bigger than a wardrobe and the place resembles a nuclear fallout shelter which is rather apt as Vintage Trouble are about to give a UK release for the debut 'The Bomb Shelter Sessions' on July 25th complete with a bonus disc of extra tracks.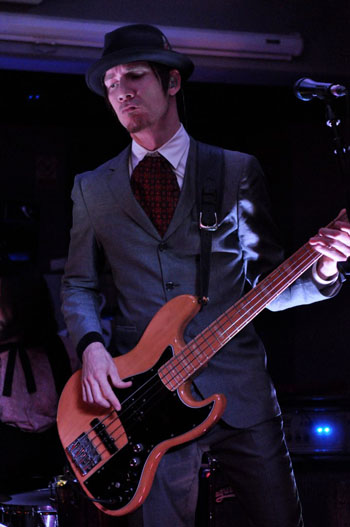 The band steam roll into the chugging instrumental 'Cash Train' before Ty Taylor makes an entrance by having to climb over table and chairs to get onto the tiny stage and is immediately twisting and turning before exploding into 'Blues Hand Me Down'.
The band are sharp dressed men complete with suits and trilby hats. Taylor is in a shiny silverish suit complete with a neat neck scarf and owns the stage like a young James Brown.
In dedication to his mother 'Nancy Lee' could be described as Motown rock. 'Not Alright By Me' featured some gospel-like audience participation. There was some great Led Zep like blues workout from Nalle Colt on the guitar for 'Run Outta You'.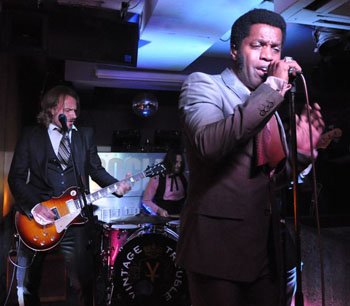 Taylor would later be out in the audience himself shaking his stuff surrounded by string of beauties playing eye contact with the singer as he twists to ground level.
The great thing about Vintage Trouble is that they do have a mass appeal. It doesn't matter if your record collection consists of Led Zep, Oasis, Motown or the old blues legends, Vintage Trouble have a dash of everything in their sound.
Once again the mic was held out to the crowd to sing back ''Right On Me'' for 'Strike Your Light'. With this little showcase event over it wasn't just those in attendance who wanted more as the band were eager to carry on, in which they gave us two brand new numbers with 'Pelvis Pusher', getting the hipsters swinging and sending the Troublemakers home happy. I'm sure in the not too distant future many children will be conceived to this magical number.
There will be Vintage Trouble ahead, let's face the music and dance.

Set list : Cash Train / Blues Hand Me Down / Nancy Lee / Not Alright By Me / Nobody Told Me / Run Outta You / Strike Your Light (Right On Me) / Show Us What You Know / Pelvis Pusher


Review by Mark Taylor
Photos by Rob Youngson
---