Just witnessed your best live gig?.. send us a review!
VINTAGE TROUBLE, Stairway Bar, Glasgow
4 August 2011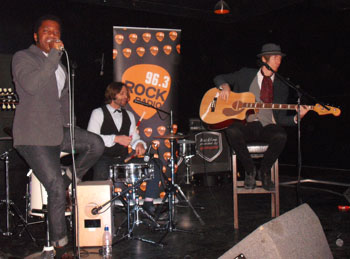 Vintage Trouble are one of those bands that appear to have come from nowhere. Only formed in 2010, they have already played on Later…with Jools Holland, supported Brian May on his recent tour and most impressively supported Bon Jovi at a number of their recent stadium gigs. Not a bad tally and something that most bands would struggle to achieve in a lifetime, far less this early in their career.
The band are currently on a UK club tour and were scheduled to play in the Glasgow ABC later in the evening, but before that, they played an intimate, acoustic show for Rock Radio competition winners in a small venue in Glasgow city centre, which my wife and I were lucky enough to attend.
This was the ultimate in pared back sessions with no stage lighting to speak of, a small PA and four guys on stage giving their all. The play a laid back, rocking blues, infused with a lot of soul, which they deliver as if they have been playing together for 20 years. It was a short, four-song, set with the highlights being 'Blues Hand Me Down' and 'You Better Believe It', both of which ably demonstrated why they have been touring with such exulted company.
Singer Ty Taylor has an excellent voice, I caught touches of both Ben E King and James Brown in his delivery which can be no bad thing. The rest of the band are equally as good with special mention to bass player, Rick Barrio Dill, his basslines underpin the whole live performance and were some of the best I have heard.
Unfortunately, it was over just as it was getting started, so to speak, and due to a prior engagement I couldn't make the later 'full' show. I did, however, see enough to convince me that Vintage Trouble are a talented bunch, deserving of their current attention and a band that could and should go on to bigger and better things in the future.


Review and photo by David Wilson
---