VINTAGE TROUBLE The Bomb Shelter Sessions (2011)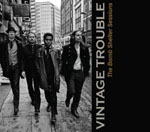 Managed by Doc McGhee (Kiss, Bon Jovi, James Brown, G'n'R, etc) and promoting their debut album off the back of touring with Brian May and Bon Jovi, Vintage Trouble clearly have much to live up to. And with talk of 'down-home revivals' and 'uptown edge' their debut cd 'The Bomb Shelter Session's- explores the primal energy of yesteryear James Brown, with some contrastingly gentle soul. More importantly in the shape of vocalist Ty Taylor the band has a vocalist capable of reciting a phone book with feeling.
From the opening James Brown style explosion of 'Blues Hand Me Down' to the closing steely blues licks, and shuffle drum beat of the Zeppelin style 'Run Outta You' - on which Ty does his best Robert Plant imitation - this is a band that uniquely combines an essential soulful feel with intense rocking and comes out the other side with a new take on an old vintage, hence Vintage Trouble.
The album opens with Ty Taylor's feverishly delivered first verse of 'Blues Hand Me Down'; 'Papa was a blues man, Gave me the blues hand me down, An alligator shoes man, Gave me the blues hand me downs' , and you could be forgiven for thinking that the jive talking vocals apart, Vintage Trouble is old wine in new bottles. But the band is no such thing. They mix intensity with real feel and passion, fired by an impatience that is reflected by an album born of 3 days, slam it down recording with barely more than two takes per song.
Vintage Trouble deliver rock and riff injected soul, a sort of Black Crows meets James Brown but with the emphasis on the songs, the grooves and always on Ty Taylor's soulful phrasing.
In some resects the opening ball busting calling card is slightly misleading as this is a band that mixes its natural bluster with melodies and grooves that find plenty of room for Swedish guitarist Nalle Colt and vocalist Taylor to push and pull the songs between fire and brimstone and soulful ballads.
Colt's playing is for the most part a modicum of restraint shaped by edgy tones and fiery licks and he fiends a natural ally in powerhouse drummer Richard Danielson. And while Danielson is never satisfied with anything less than being high up in the mix, he's consistently locked in with bassist Barrio Dill making Vintage Trouble the sumptuous sum of its parts. Then there's Ty Taylor who sounds like he's waited for years for this session, but in fact he's had previous form in the late 90's with Dakota Moon.
But make no mistake Vintage Trouble is a new band with a new energy, new songs, a new attitude and a new take on bristling soul. And while you do wonder just where groove laden singles like 'Nancy Lee' will find air time in today's musical landscape, you get the feeling that Vintage Trouble will probably undertake a lot of road work to achieve their goals.
And though 'The Bomb Shelter Sessions' is rocking soul for the new generation, Ty is not averse to revealing his Otis Redding roots on ballads such as 'Gracefully' and he's equally content leaning into another soulful groove on the call and response heavy 'You Better Believe It'. On 'Nobody Told Me' he lets his voice float around the studio just like Curtis Mayfield used to, as the rhythm section nails down the band's essential soulful feel.
This is nicely juxtaposed by the rockier 'Jezzebella' with its cascading riffs, familiar 'wooh wooh' bv's and another tour de force vocal from Taylor. There's a lovely tension between the guitar and voice and the additional handclaps that projects the song towards a surprisingly tame ending. But Vintage Trouble are nothing if not intense and powerful as Ty leads them into one of their most convincing rock/soul hybrids on 'Total Strangers'.
Mixing exuberant energy with soulful feel, 'The Bomb Shelter Sessions' screams 'This is Soul', but not as we used to know it, welcome to a new vintage.
****
Review by Pete Feenstra
---
| | |
| --- | --- |
| | Print this page in printer-friendly format |
| | |