VESSELS Helioscope (2011)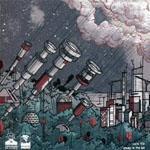 Vessels are back after an extensive tour promoting their new album Helioscope and the highly anticipated release date has finally arrived. I must say itís exciting to be able to find out what this extremely experimental Leeds band have come up with this time around.
The album kicks off steadily with 'Monoform' which sets the scene with a consistent drumbeat and then explodes into a frenzy of clashing instruments about one and a half minutes before the end. This then progresses into a soft ticking noise which gradually builds into a gentle blend of soothing guitar with prominent distortion and again, that signature steady drumbeat.
'Recur' then kicks in with some rather lulling vocal work that makes the track more of a conventional experimental rock song rather than following the total craziness of what Vessels usually produce. This adds some safe ground for newer listeners and is sure to draw you in.
The rather funky beats of 'Later Than You Think' bridge the gap between 'Recur' and the hit single featuring Stuart Warwick (who also toured with the band), 'Meatman, Piano Tuner, Prostitute'.
'Art/Choke' takes a much heavier approach on things with soaring guitars and synths that add a certain feel-good mood to the track. This is followed up the tranquil 'Heal' which throws you head first into a dazed state of mind with its stunning ambience.
'All Our Ends' provides another safe bet with the regular sort of sound that Vessels would come out with before the conclusion to the album with comes in the form of 'Spun Infinite' which slowly winds you down with a soothing sound along with the same calming vocal work as heard on 'Recur'.
Overall, itís definitely worth a shot but the album certainly targets a rather specific audience and is not for those who like powerful vocal work. If you can let instrumentals take over and blow you away then youíll be more than satisfied with these compositions but if youíre expecting more then try not to be too disappointed.
***½
Review by Abigail Suter
---
| | |
| --- | --- |
| | Print this page in printer-friendly format |
| | |