VAN DER GRAAF GENERATOR A Grounding In Numbers Esoteric (2011)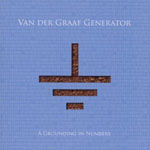 Revived in recent years and now hitched to progressive rock specialist Esoteric, this individualistic stalwart of the genre, at its most wilful and excessive, taps at numeralism in theming this latest selection of restless and mysterious music, undiminished by the passing years.
By no means a last gasp, "A Grounding In Numbers" is nonetheless a form of countdown, acknowledging that the meter is well and truly running in the ruminative opening track, 'Your Time Starts Now'. Numbers and their governance tumble up and down again in 'Mathematics' and '5533'.
Years back when they ran riot on the Charisma label with "Pawn Hearts" and singer Peter Hammill's first solo release, "Fool's Mate", chess was a running motif. But that was a game, and matters are more serious, the time being now. While Hammill dominates (the album chiming with his solo work), Hugh Banton and Guy Evans' keyboards and percussion respectively assert the qualities that distinguished a band capable of seguing effortlessly and unselfconciously from gentle and simple introspection to controlled chaos.
Snapped informally for the album's publicity, VdGG appear somewhat ill at ease with their continued celebrity. Evans resembles the kind of person tasked with minding delinquents; Banton looks like the church organ builder that he is.
The most (relatively) rock 'n roll in bearing, Hammill stands in the middle ground, bird-like, his head tilted to one side and gazing into the camera with a quizzical grin of "Why are we still doing this...?" To which we can only respond: "because you can..." Well done then: four out of five stars. Keep it at it ... at least until my number comes up.
****
Review by Peter Muir
Peter presents 'Progressive Fusion' on Get Ready to ROCK! Radio every Sunday at 19:00 GMT
---
| | |
| --- | --- |
| | Print this page in printer-friendly format |
| | |