URIAH HEEP Official Bootleg Vol 4 - Live In Brisbane, Australia 2011 earMUSIC (2011)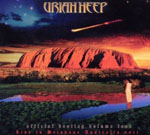 It does exactly what it says on the tin and will leave any Uriah Heep fan happy. A year after celebrating their 40th anniversary, and promoting the latest Wake The Sleeper set, the band played this well received set (even if the crowd noise does sound light on the ground) on their first visit down under for a long long time.
The current line-up has been pretty stable of late, with vocalist Bernie Shaw having been in the band for 26 years and pianist Phil Lanzon about the same.
From the new album the title track opens with aplomb and 'Book Of Lies' sounds solid too. The immediate highlight though, is second track 'Return To Fantasy'. In Shaw's own words, it blew away the jetlag. Disc 1 also features the new 'Only Human' and classics 'Bird Of Prey', 'Stealin'', 'The Wizard' and 'Free Me'.
This is a solid performance, new drummer Russell Gilbrook fitting in perfectly. The sound is richly layered in Phil Lanzon's keyboards, vocalist Shaw not only sounds good but is chatty with the audience (something a lot of vocalists could do more of) and Box's guitar just rocks. You can hear him grinning from here. And The driving force of bassist Trevor Bolder can't be forgotten - one of the best bassists you'll ever hear.
Disc two features 'Free'n'Easy' and 'Look At Yourself' which really rock at high speed. All the usual classics here but you can't not mention 'Easy Livin'' and closer 'Lady In Black'; outstanding.
I know there's a lot of live stuff about but this is current, and it's superb, well presented, and well recorded.
If you like prog (or just hard rock for that matter, if you like Heep, all is alive and kicking, you'll love this.
****½
Review by Joe Geesin
---
| | |
| --- | --- |
| | Print this page in printer-friendly format |
| | Tell a friend about this page |