TRACY NELSON Victim Of The Blues Delta Groove DGPCD143 (2011)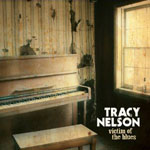 'Victim of the Blues' is a lovingly made, intuitively produced and understated blues album that grows on you. 'Victim' is Tracey's 25th album in a 47 year career and it's a CD that represents a circular evolution of a career that was kick started in the 60's when she was discovered by American music historian Sam Charters.
Tracey fronted Mother Earth and was at the centre of the West Coast psychedelic explosion, going on to enjoy a solid if unspectacular solo career before moving to Nashville and gravitating towards Country. 'Victim of the Blues' represents her reconnection with the blues.
When a recording artist in the autumn of their career cuts a set of blues covers it's often assumed that they are out of fashion or out of songs. But on 'Victim of the Blues' Tracey makes a strong case for reconnecting with her Chicago Blues roots on an album overseen by her producer and partner Mike Dysinger, as she pours her heart and soul into the songs that she heard at the outs et of her career.
The result is a very traditional album, anchored by Ma Rainey's title track, on which Tracy reminds us of the potency of real feel and an effortless vibrato. Executive producer and label boss Randy Chortkoff has worked hard to establish a coherent roster for his Delta Groove blues label and while 'Victim of the Blues' isn't a best seller in the making, it still gives him a potential ace in the pack, as it's a traditional blues record cut by contemporary players who are the essential conduit between the past and present
If nothing else this record is a proud restatement of the genre by an artist whose liner notes express disappoint at the gap between the 60's and now; 'The music I heard back in Chicago and what I was hearing from the current crop of blues acts bore little relation to each other'. You could argue that the times have changed but there's a timeless quality about her delivery and an indefatigable passion that marks 'Victim of The Blues' as a tru e restatement of her calling.
Furthermore the combination of Nashville guitarist Mike Henderson former Robert Cray keyboard player Jimmy Pugh, bassist Byron House and guests Marcia Ball, Angela Strehli and John Cowan bring the perfect hues and colours to an album that is only a couple of inspired choices short of a full pack. As it is her choices are succinctly explained in the track listings and are astutely brought to life by a vocal performance that relies on emotive phrasing and instinctive timing derived from a lifetime's musical experience. She evokes the real feeling and intent of the lyrics on 11 tracks that reference Chicago, swamp and gospel blues via old time r&b.
The swampy blues comes on Earl Thomas's 'Lead a Horse to Water' on which the impressive Mike Henderson contributes an imposing guitar figure. He adds a stinging solo on the opening train-time rhythm of 'You'll Be Mine' and switches to banjo on the title track and teases out a trebly solo on a powerful Ne lson/ Strehli duet on Wolf's 'Howlin For My Baby'.
The well thought out use of different guitars and tones is best exemplified on the dirt sounding slide and drummer John Gardener's subtle brush stroke work that make Percy Mayfield's 'Stranger In My Own Home Town' undeniably cool. Tracey goes right back to the dawn of her career on the languid gospel feel of 'One More Mile', while 'Feel So Bad' is a highlight by virtue of its new Orleans shuffle rhythm and the combination of subtle nuanced guitar lines, period organ sound and Tracy's unhurried phrasing.
Victim of the Blues is a triumph because of Tracy's essential feel for the blues material she first heard in the sixties. Her band nail down the grooves, and her guests bring an extra ingredient, particularly so John Cowan's closing gospel vocal on 'Without Love' Tracey tells us that 'Victim of The Blues' is 'the story of my life'. It's a story very well told by a first generation white blues artist who successfully manages t o rekindle the deep traditions of the blues from a very personal perspective.
****
Review by Pete Feenstra
---
| | |
| --- | --- |
| | Print this page in printer-friendly format |
| | |