TRACER Spaces In Between Cool Green Recordings/Mascot (2011)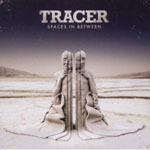 This band from Adelaide, South Australia (we shouldn't hold that against them) have a real groove going here. From the outset there's a catchy blend of 70s and 90s hard rock.
From classic rock (think Hendrix, Zeppelin, Trapeze) to 90s' alternative, stoner and post grunge (think Audiolsave). It's catchy and blistering and enjoyable.
'Walk Alone' opens with a thunderous drum sound and the rough whiskey soaked vocals on 'Louder Than This' suit the bluesy guitar - it sounds like extra chunky southern rock played half speed but double volume. Wonderful guitar solo too.
It's a pretty good mix, most of the songs could be Sledgehammer Rock because they have that effect on you.
The music, when it's not being depressingly jangly (that's the 90s influence) is chunky and upbeat. Think Montrose mixed with late 70s Sabbath. 'The Bitch' carries this off rather well.
Overall a good mix and a very enjoyable sound. And powerful.
***
Review by Joe Geesin
---
| | |
| --- | --- |
| | Print this page in printer-friendly format |
| | Tell a friend about this page |