Just witnessed your best live gig?.. send us a review!
TOXIC FEDERATION
Purple Turtle, Camden, London 5 February 2011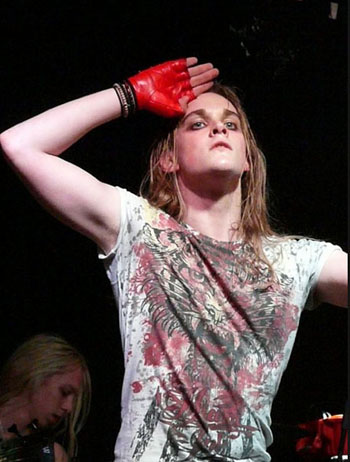 One of Get Ready to ROCK!'s Featured Artists for 2011, Toxic Federation, got an opportunity to impress a London crowd in unpromising circumstances, going on at 7:30 at the bottom of a four band bill at the Purple Turtle.
Despite their youth, some of them still being in their teens, the Nottingham quintet have already released two albums, and their stage show showed an assured maturity beyond their years.
In a six song, 30 minute set they mixed numbers like 'Dark', 'Broken' and 'Daybreak' from their most recent album 'As One' with having the confidence to try two new songs including set closer 'Life of Mine'.
They have the look of a hair metal band, and yet their sound is difficult to pigeonhole, and not in the slightest glam.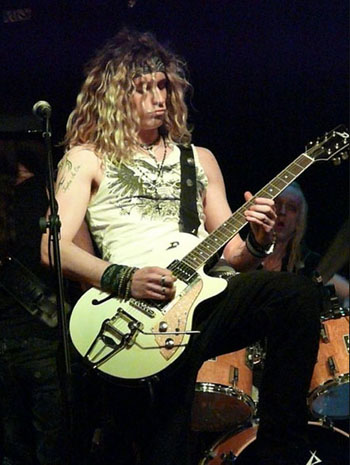 The musicianship is proper old school rock, with some at times Maiden-esque twin guitars from Jake Graham and George Coleman but there is also a slight alternative feel to the song structures. The one area where they perhaps fall down at the moment, despite their musical quality, is a lack of memorable hooks or tunes.
There was no doubting the star of the show though - Mitchel Emms. The singer with the Cooper-esque eye make - up had a strong voice, but more notably a magnetic and rather demonic stage presence.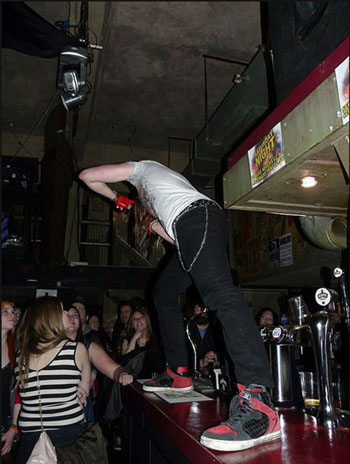 He also seized the audience by the throat, metaphorically speaking, by regularly coming off the stage and getting in people's faces and his manic energy took him to the upper level balcony, on top of the bar, nearly decapitating GRTR!'s photographer as he landed, and even out of the venue and onto the street!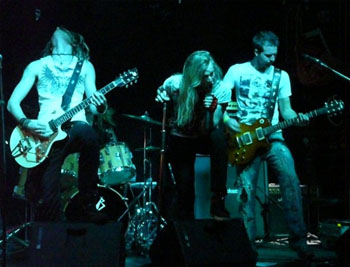 Zoom (Click large image to cancel)
He had the swagger of a rock star with immense self-belief and it will be interesting to see how that stage act converts itself in a larger and fuller venue.
Predicting fame is a hazardous business and the bargain bins are littered with bands that are the next best thing, but Toxic Federation have the look, the attitude, and desire to go much further.
Review by Andy Nathan
Photos by Joe Black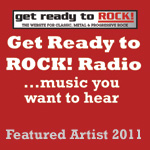 ---