TOXIC FEDERATION As One (2010)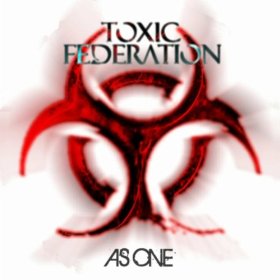 A few years from now people will look back, with the perspective that time and distance brings, and realise there was something very special in the water flowing through Nottingham and Derby in the year 2010.
Out of the starting gate was Condemned, the new album from Isolysis. An unlikely, but extremely well executed, fusion of Alt Rock stylings and traditional British metal with a very modern attitude, fronted by one of the most distinctive and impressive vocalists currently performing in the UK metal scene.
The year also saw the release of the eponymous debut from Spirytus; a brilliantly realised reinvention of the Nu Metal wheel, breathing life into a genre loathed by many and pronounced dead by many more. Not so, argued Spirytus. Convincingly.
And now classic, melodic hard rock has its own champion in the form of Toxic Federation, a band already creating a huge buzz on the back of stunning live shows that look back to the days when seeing a band live was an event. When being entertained was something to be celebrated, not sneered at. When rock bands were comprised of rock stars; characters who invited us to live the dream with them.
With just the one patchy, self produced and self-financed, album to their credit, recorded when the average age of the band was barely sixteen, the big question for this writer was could they capture anything of the energy, passion and commitment of their live shows and commit it to disc? Could the new album realise the song writing potential only hinted at on some of the tracks on Behind The Mask?
It's a stunningly well-crafted, beautifully-written and professionally-executed disc that realises the potential displayed on Behind The Mask while at the same time signalling the band's intention to go on to bigger and better things.
I recall in 1983 seeing Marillion and feeling a jolt of electricity crackle up and down my spine. I remarked then that this was a band that was going to be huge. I well recall, too, the mockery that greeted that pronouncement and yet just two years later Misplaced Childhood was the biggest selling album in twenty eight countries and the band attained a commercial and artistic success they have never equalled.
I'm getting that feeling once again. These guys have perfected a blend of ballsy hard rock and achingly beautiful melodies that is irresistible. This is a simply stunning band. Genuine rock 'n' roll prodigies. Album of the year, no question and, yes, I'm prepared to take bets no one will release anything to equal this for the rest of the year. I may not be "hanging" like the unnamed character in Epiphany but I am hearing "glorious music". Someone, somewhere, needs to sign this band. Now
*****
Review by Harry Paterson
A longer version of this review appears here
---