Just witnessed your best live gig?.. send us a review!
TODD RUNDGREN, HMV Ritz, Manchester
1 October 2011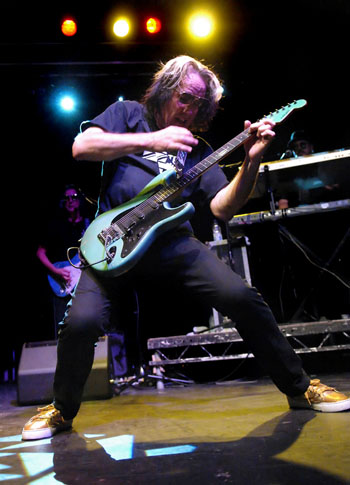 The last few years has seen the great TR-i play to increasing audiences in the UK and we've also had two excellent albums as part of this UK revival: Liars and Arena.
This two-hour show came closest to what might be termed a 'greatest hits' set but as Todd joked if that were really true 'it would only last for about twenty minutes!'
Seemingly aware of his own jittery career trajectory, this set also perhaps emphasised why you really need to be in the 'TR zone' to fully appreciate the man and performer.
Starting out with an energised 'Real Man' and 'Love Of The Common Man' he put on the electric guitar for a wonderful 'Buffalo Grass' but - in spite of evident audience approval for the electric - it was only deployed two or three times tonight.
Whilst you could argue that Todd did guitar-driven rock on his Arena tour in my mind his guitar playing - whilst underrated - has always been one of his greatest strengths and, later on, a longer Philly/soul interlude placed the emphasis on a fine voice but tunes that weren't his own.
No doubt the 'faithful' love him in all his guises but it is often this eclecticism (notwithstanding his prog and psych periods) that leaves some listeners confused. The faithful would no doubt have approved of 'Espresso' from the excellent 'The Individualist' (1995) whilst 'Lost Horizon' from 'A Capella' (1985) was another addition to satiate the insatiable. And, of course, the three tracks from 'Hermit Of Mink Hollow'.
The highlights, though, were real highlights and a long-held revelation that a few tunes from 'Liars' stand up to anything he's produced previously - 'Flaw' and 'Soul Brother' tonight - whilst the 'classics' were just that.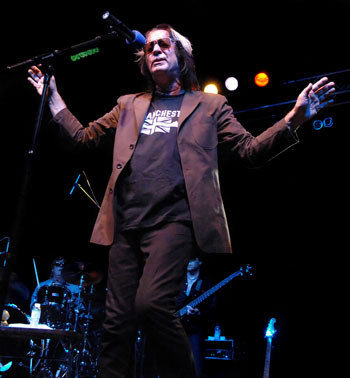 My personal highlight tonight was a song I have never seen him perform live and one of my personal favourites. 'Love Is The Answer' may have been a hit for England Dan and John Ford Coley but was originally performed by Utopia (from whom Kasim Sulton remains in the current band line-up) and of course written by Todd. The song's sentiments are as relevant now as they ever were: a truly wonderful piece of music and I sensed the crowd were delighted too.
After a tentative 'comeback' in the UK, including - frustratingly - a shared tour with Joe Jackson, Todd has ticked the boxes for guitar rock, album rock (A Wizard A True Star in February 2010) and, now, a triumphal 'greatest hits' outing for want of a better descriptor. But four sold-out dates at smaller venues is still not enough and one hopes he returns soon with a new album and a more extensive itinerary, plus of course that shiny acid green guitar.


Set-List: Real Man / Love of the Common Man/ Buffalo Grass/ Kindhearted Woman/ Determination/ Lucky Guy/ Can We Still Be Friends? / Espresso / Love Is the Answer / It Wouldn't Have Made Any Difference/ Lost Horizon / Flaw/ Soul Brother/ I'm So Proud / Ooo Baby Baby / La La Means I Love You / I Want You/ Hawking / I Saw the Light/ Courage / Drive / Couldn't I Just Tell You? / Encore: Hello It's Me/ A Dream Goes on Forever


Review by David Randall
Photos by Steve Goudie
Related>> Album reissues
---