Just witnessed your best live gig?.. send us a review!
TINA DICO
Band On The Wall, Manchester, 18 February 2011
Photo Gallery (London, 23 February 2011)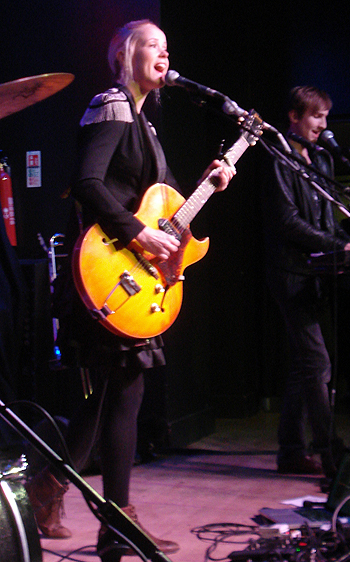 A return to her homeland and, in particular, Copenhagen seems to agree with Tina Dico. We found her more at ease with herself and her audience than previous excursions in 2008. What we couldn't quite fathom out is how her exile in London has failed to put her firmly on the mainstream map in the UK and even further afield.
Together with a drummer who looked like Ade Edmondson but added essential oomph, and her sometime cohort Helgi Jonsson who provided excellent backing vocals, keys, and humour, she trawled her wonderful back catalogue coinciding with the release of a new (and highly recommended) semi-retrospective 'Welcome Back Colour'.
Tina herself joked that it is usually a lot more upbeat backstage than on, and her essentially melancholy music might not appeal to all. But her dark lyrics and minor chords will find resonance especially to those who have loved and lost, or wrestled with change and uncertainty. There were a fair number of women in the audience.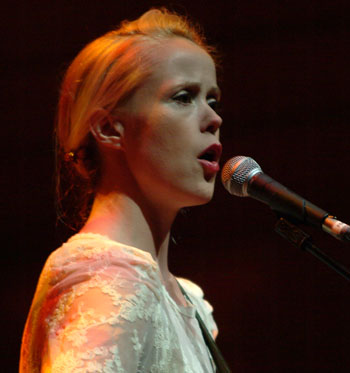 Photo: Noel Buckley/GRTR!
It is difficult to pick out highlights in a near 2-hour set which was basically all highlights, from 'In Love' and 'Count To Ten', via 'In the Red', the more recent 'Copenhagen', a superb 'Room With A View', and her duet with Jonsson 'Waltz'.
But, for me, 'Sacre Coeur' takes some beating. I've loved this song the moment I heard it as a single extracted from the album 'Count To Ten'. Written at the start of her exile, whilst in Paris, it is now perfectly punctuated by Jonsson's trombone and is a pretty fair summation of Tina Dico's artistry.
Having seen Tina without a band it is obvious that she can be just as effective solo, but her musicians tonight supported the music without overwhelming it.
In spite of strong audience demand for another gem 'Warm Sand' she finished with a rousing 'The Road'. It is unlikely that Tina Dico will ever 'rock out' but tonight was evidence that - comfortable in her own skin - anything might be possible (even a spontaneous 'Warm Sand').
For her followers this was an exquisite experience but why, several years on, she is still a best kept secret on these shores is a complete mystery, although intriguing in its own way as the songs she writes.

Review by David Randall
Photo Gallery (London, 23 February 2011)
---