GRTR! Features Editor Pete Feenstra interviews Luke Morley (left) and
Danny Bowes, London, 25 February 2011 (Camera: Eric Harvey)
THUNDER Rough And Ready STC2011-1 (2011)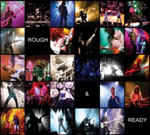 For a band with so many career highs Thunder was never a band in danger of diminishing returns. Sure you could argue they carved out power ballad/hard rock niche and stuck to it, but in Luke Morley they had an inventive song writer with an eye for a catchy hook, good lyrics and the guitarist skills to bring his creations to life. And while the band was always the sum of its parts, charismatic front man Danny Bowes adds that extra dimension t make the band special, even on what he calls 'the Japanese bootleg'.
The power of his voice, the nuance of his phrasing and above his essential connection with the crowd towers over the opening brace of CD's, on which the Japanese crowd sound along way away, a consequence of the desk tape origins of the recording. 'Rough & Ready' was recorded in 2005 as part of 'The Magnificent Seventh' tour and is an aptly titled reference to the contrasting audio quality of the Japanese concert and the pristinely recorded UK shows.
There are not many surprises, but the end result is a very honest product that showcases the band in ever aspect, totally bereft of overdubs, post production and studio fixes. .And as such it is a coherent and worthy successor to the 20th anniversary live album and a great footnote to a stellar career.
The secret of the project's success is a simple one, if you can nail down a Thunder live show, the band will take care of the rest. Each Thunder gig was always a special event for the fans. And on both double sets you can feel the natural flow of a live gig, not just in terms of the sequencing of the songs and the pacing of the set, but above all in the way Danny works the crowd. He never lets up as he cajoles them before a booming chorus, gets them to clap on an intro and has the wherewithal to ask if it was all OK with the crowd.
'Rough & Ready' gives you a similar experience of seeing a friend you haven't met for a few years. Their core qualities still draw you in from the sense of humour to all those things you value them for.
You sometimes wonder what the Japanese make of his quips, but they all seem to laugh in the right places and fill in the karaoke hooks. 'Rough & Ready' gives you a similar experience of seeing a friend you haven't met for a few years. Their core qualities still draw you in from the sense of humour to all those things you value them for. Thunder are exactly like that. And their return for a one off show at the July High Voltage Festival - a recently established heritage Rock festival that makes retro almost fashionable again - is the perfect context for a band whose best years occurred a good twenty year after the rock blues genre first took hold.
'Rough & Read' gloriously restates the obvious that Thunder are Classic Rock personified. And while Whitesnake had the benefit of transatlantic success, Thunder's geographic strongholds are reflected in the UK and Japanese locations but there's a core irony attached to some of the band's output as evidenced by 'Amy's On the Run' it's arguably the song that Bon Jovi never wrote, while 'I'm Dreaming Again' is one of those annoying rock ballads that was tailor made for what's left of FM rock radio.
As always Danny Bowes' vocal performance is immense as he references Paul Rodgers on 'Higher Ground' and adds some great phrasing on 'I'm Dreaming Again'. The biggest surprise is the inclusion of the excellent but rarely played 'Monkey See Monkey Do'. The Japanese version in particular, is full of Zeppelin eastern flavoured guitar and great band interplay, and in some respects has a more immediate impact than the Shepherds Bush version. Disc one finishes on a high with 'River of Pain' and at its conclusion, Danny seizes the moment and shouts 'Are We Still OK'?
CD 2 answers his question in the affirmative as Luke burns on the Who influenced 'Fade Into The Sun' while 'I Love You More Than Rock & Roll' is another Thunder anthem that makes you wonder why they didn't conquer America. Then there's 'Low Life in High Places' another classic that is brilliantly revitalised and 'Dirty Love' which opens like a Cream song before exploding into life. Yessiree, straight from the desk, no dubs, no trickery and nothing but just good old fashioned rock & roll
The March 2005 concert lives up to its 'Ready' title with the crowd high in the mix, as sonic quality leaps out of the speakers and virtually transports you to the gig! Danny's opening phase on 'Loser' is again pure Paul Rodgers, while 'Amy' is the perfect balance of twin guitar hard rock, a great melody and sing-along hook. There's more 'in the moment' call and response on 'Higher Ground' and the band really hit their stride on 'Can't Keep A Good Man Down' all great riffing, brilliant vocals, crisp drumming and pure Thunder!
And as the band power their way through into second half of the set with 'Love Walked In', it still has an ability to make the hairs stand up on the back of your neck and is Coverdale in all but name. Not much more to say really, as the set builds up towards a big finale in another perfectly balanced show with 'I Love You More Than Rock & Roll'. There's even a full two minutes of audience cries for more to remind you that you should be hollering at the front with the crowd, before the band come back and launches into the wailing guitars and drum break of 'Backstreet Symphony'.
Harry James duly steps up on acoustic as Luke adds a Neil Young signature harp intro before the band top a great night with the sublime 'A Better Man', one of their greatest ballads. 'Dirty Love' nicely rounds things off and is another song that should have sealed their lasting success in the States.
America's loss is our enduring gain as 'Rough & Ready' is good enough to be regarded as the definitive live Thunder Package. From a 'warts and all' desk tape recording to a state of the art live mobile recording, you get to hear Thunder as they really were and are, an essential cornerstone of British Classic rock. Go and buy and crank it up.
*****
Review by Pete Feenstra
---