Just witnessed your best live gig?.. send us a review!
THIN LIZZY, HMV Record Store, Oxford St., London 24 July 2011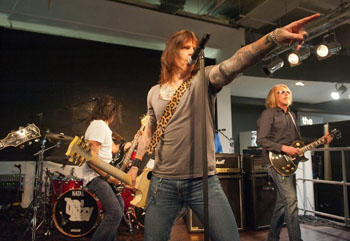 On the day that tickets went on sale for the Thin Lizzy UK tour of 2012 the boys were back in town to play an intimate in-store gig followed by a signing session. This new incarnation of Thin Lizzy had just been well received at the High Voltage Festival.
Word of mouth had spread about this event on Facebook but not everyone was lucky enough to get out of work in time to be here for the 6pm start.
Not that all rockers knew that this was happening, one friend of mine I bumped into was over the moon as she was just shopping in HMV for some CD's and got excited when she saw the Lizzy logo on a drumkit.
Huddled around the racks of CD's, fans waited patiently until the band arrived on stage. Then BOOM! Thin Lizzy blasted they way into 'Jailbreak' and boy was it loud, the loudest in-store gig I've ever heard.
New singer Ricky Warwick asked ''Is it loud enough?'' to which a few wags replied ''Yes a lot louder than High Voltage'' where through no fault of their own Lizzy played through a below par low wattage PA.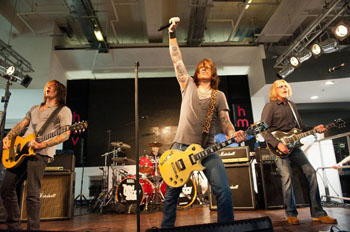 Today more than made up for that. This was Lizzy loud and proud, live and dangerous, with the twin lead guitar sound provided by Scott Gorham and newcomer Richard Fortus (Last seen in Guns 'N Roses) who both excelled themselves on the stormers 'Don't Believe A Word' and 'Rosalie'.
By now this was like being at a real gig with the crowd eager to join in. Warwick was amazed by the return howl of the coyote call to 'Cowboy Song'. For 'The Boys Are Back In Town' many shoppers had gathered around disbelieving what they were witnessing.
With a short killer set like that, an encore was demanded and 'Killer On The Loose' proved that this band has more balls than you find at a David Beckham training academy.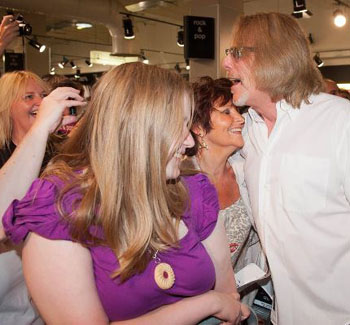 A little while afterwards the band came out to sign autographs and to have their photograph taken with fans.
Phil Lynott is no longer with us, but his songs are immortal and need to be heard by many generations to come.
Set list : Jailbreak / Don't Believe A Word / Rosalie / Cowboy Song / Boys Are Back In Town ...encore ..Killer On The Loose


Review by Mark Taylor
Photos by Hugh Thompson
Thin Lizzy's early-2012 tour starts on January 19 in Glasgow, finishing at London Hammersmith Apollo on February 4th. Support is Clutch.
---