Just witnessed your best live gig?.. send us a review!
THIN LIZZY
O2 Academy, Leeds 10 January 2011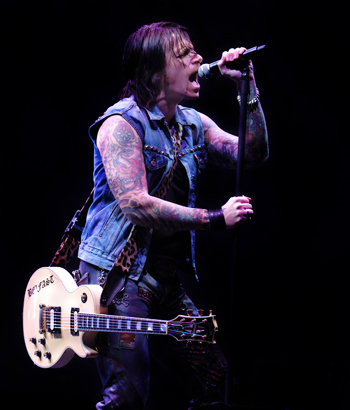 Photo: Steve Goudie
Amazingly, it has now been 25 years since the great Phil Lynott passed away dancing with the angels at the young age of 37. Rock fans had lost one of their greatest ever idols, a poet, a rocker, a charmer, a chancer, a hero, a wild one who could immortalize stories into four minute rock songs that will be forever etched into our memory.
The thought of Thin Lizzy continuing as a live band without their dynamic frontman divides opinion of past members, critics and fans alike.
Although playing for one night only in Dublin in 2005 in tribute to Phil Lynott, former guitarists Gary Moore and Brain Robertson have both refused to have anything to do with the idea of touring under the Thin Lizzy banner. Personally I can't blame Scott Gorham for wanting to go out on stage and play these magnificent songs for fans old and new alike.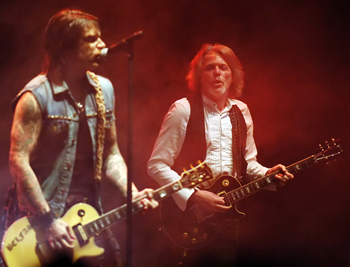 Photo: Steve Goudie
Even myself now in my early forties missed the opportunity of seeing Lizzy in action back in their day, although I count myself fortunate enough to have seen Phil Lynott in his post Lizzy concept Grand Slam.
Fans who weren't even born when the singer passed away can now check out the greatness of not only Lynott's unique songwriting skills but also the twin lead guitar sound that is so synonymous with the Lizzy sound.
For this latest incarnation of Thin Lizzy, joining Gorham are original Lizzy boys drummer Brian Downey who is making a very welcome return and keyboardist Darren Wharton.
From Def Leppard and making up the 'twin' sound is Vivian Campbell, and for the difficult parts of following in Lynott's footsteps is bassist Marco Mendoza and what really has set the tongues wagging, taking on the vocals is Almighty frontman Ricky Warwick. Will they be live and dangerous or will they die an angel of death?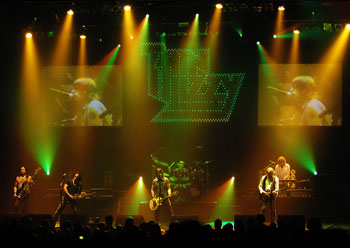 Zoom (Click large image to cancel)

An announcer barks over the PA "Are you ready?", as the curtain drops and unveils the classic Thin Lizzy logo illuminated in flashing lights, Gorham and Campbell come out with all guns blazing followed to the centre by Ricky Warwick who also has a guitar strapped around him for a triple assault. The band are most certainly ready and after listening to the following classics' Waiting For An Alibi' and 'Jailbreak' in quick succession, the whole of the Academy was ready.
It's evident that Warwick's voice is at first a little too punky for Lizzy, but he soon calms down and enjoys the situation he has found himself in and plays no disrespect to the songs of the great man.
In fact I found Warwick a great frontman in such difficult circumstances and did a passionate job throughout. Although he had a guitar with him for most of the set, I felt it was only there for comfort value as I couldn't hear his playing over the volume of Gorham and Campbell.
Things were lightened up for 'Do Anything You Want To' when Campbell, Warwick and Gorham had a drum each placed in front of them as they tried to play the drum parts followed by them trying to play their guitar licks on cue raised a lot of smiles from the band and fans alike.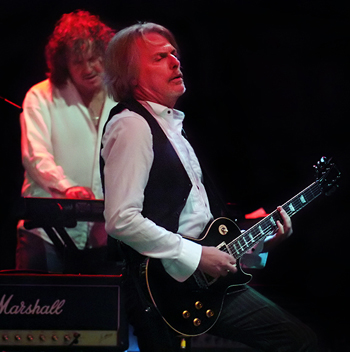 Photo: Steve Goudie
'Angel Of Death' and 'Wild One were greeted like long lost friends, a forgotten classic that still sounds so fresh. Not so surprisingly it was the softer voiced Darren Wharton who mainly sang on the epic ballad 'Still In Love With You' followed by a rousing 'Whiskey In The Jar' that was mid-placed into the set.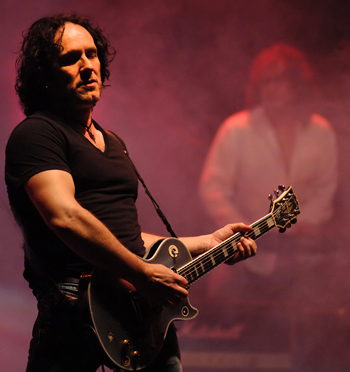 Photo: Steve Goudie
It was great to hear the sweet savage attack of Vivian Campbell on songs like 'Emerald', I haven't really heard him play guitar like a rock god since his days in Dio, as he really doesn't get the chance to rock in his day job in Def Leppard (More fool them).
The Thin Lizzy sound was all there with Scott Gorham pulling out those ringing riffs at every opportunity and a joy to hear. Brain Downey at the back keeping the perfect pace ensuring these songs are kept at the perfect level.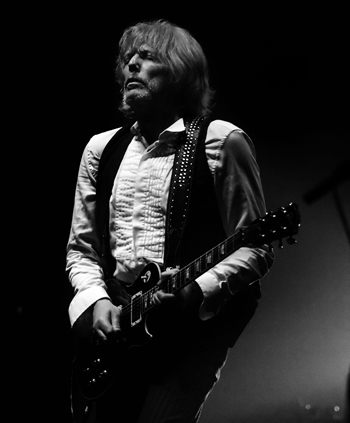 Photo: Steve Goudie
With a mouth watering set-list this was a fantastic evening that should silence the doubters. One must wonder what Phil Lynott would be making of this up there in the great big sky, but I bet he would love to be down here, back in town with the boys up there on the stage. Lynott's star was shining bright tonight.

Set list: Are You Ready /Waiting For An Alibi /Jailbreak /Do Anything You Want To /Don't Believe A Word / Dancing In The Moonlight /Massacre /Angel Of Death / Still In Love With You /Whiskey In The Jar /Emerald / Wild One /Sha La La /Cowboy Song /Boys Are Back In Town ...encores ... Rosalie /Bad Reputation /Black Rose
Review by Mark Taylor
Photos by Steve Goudie
---
Gig review (Hammersmith Apollo)
---