THEA GILMORE Sandy Denny - Don't Stop Singing Island (2011)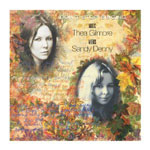 I guess the first question is 'why?' And it's one to which Don't Stop Singing offers no real clues. Already reviews suggest the album - on which Thea takes unfinished Sandy Denny lyrics and sets them to music - is polarizing opinion.
And that should come as no surprise. Sandy Denny fans are likely to see it as an almost sacrilegious act, while Thea Gilmore purists may see it as another diversion from her own core of work.
Not that Thea is likely to care one iota.
Always her own woman (although some might argue she's actually Nigel Stonier's woman) Don't Stop Singing comes hot on the heels of another 'off the wall' project - her track by track cover of Dylan's 1967 John Wesley Harding album. Two albums in one year (plus giving birth to her second child) - now that's a work ethic virtually unheard of since the early 1970s.
This latest venture putting melodies and music to the words of British folk heroine Sandy Denny, who died tragically young in 1978, was commissioned by the Denny estate in conjunction with Island Records. 'Kerching!' sadly springs to mind. It's hard to see what other reason there might be.
But it's a bit like finding an unfinished Shakespeare sonnet and asking JK Rowling to finish it off. It simply doesn't work like that.
So what you need to do is come to Don't Stop Singing with no preconceptions or expectations. If you can do that it is, in fact, rather good. It certainly bears far more of Thea's trademarks and if you were expecting a direct read across to Denny's own sound then admittedly it could be perceived as disappointing. But that's rather missing the point.
Sporting her usual cast of supporting players Thea's taken Denny's lyrics, absorbed them, and then delivered them in her own style but with more of a nod than usual to the folk scene when Denny was a member of Fairport Convention and the first UK female singer/songwriter to secure a major record deal. It's a gentle, at times solemn, and always respectful piece of work.
In that context it works just fine. And in terms of Thea's 'own' work, it probably sits most comfortably next to her excellent Strange Communion 'Christmas' album from 2009.
As Thea herself says, Sandy Denny has long been a reference point for her - a girl who wanted to sing and write and who didn't wish they'd been born American. Her own aim in this project has been nothing more than to encourage others to explore the Denny legacy.
What it isn't, and was never intended to be, is Thea trying to make a Sandy Denny record. That would be foolish, and Thea Gilmore's no fool. A rather lovely record.
****
Review by Pete Whalley
---