THEA GILMORE John Wesley Harding (2011)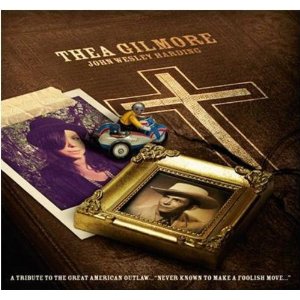 Is it a good idea to re-record and re-interpret a legendary 40 year old album that is synonymous with its writer and performer? Thea Gilmore acknowledges probably not. But that's what she's done.
In 2002 she was invited to record a track for a Dylan covers CD. Recruiting fellow fans Robbie McIntosh (guitars) and Paul Bevis (drums), she and hubby Nigel Stonier (bass) quickly despatched a cover of I Dreamed I Saw St. Augustine. It was widely acclaimed, including by long time admirer Bruce Springsteen, becoming a live favourite and much sought after by collectors.
So when she was invited to take part in a 70th birthday tribute, it seemed appropriate to re-assemble McIntosh and Bevis - with whom she hadn't worked for six years - and in the space of seven days they knocked out the rest of the album.
For those not intimately acquainted with Dylan's extensive catalogue, John Wesley Harding was his eighth album, released in 1967, and was a return to his acoustic / folk roots after three electric albums. Regarded by many as one of the best albums of all time it reached #2 in the Sates and # 1 here.
But Dylan is an artist who divides opinion. Most will acknowledge his place in the annals of rock and most will acknowledge the strength of the 'best of' his material. But fewer would want to listen to many of his albums start to finish.
At this stage I should probably reveal my hand and say that I'm a fan of Thea Gilmore and have been effusive in my praise of her recorded and live work. So the burning questions are whether John Wesley Harding is just a personal indulgence, and whether it's going to be a curio or classic amongst her growing canon of work.
Well, typical of any Thea Gilmore recording it's beautifully sung, played and produced. That pretty much goes without saying. So it comes down - to a large degree - to whether you're a fan of Dylan's writing.
I have to confess to being unfamiliar with the original album and I suspect most will be in the same boat. The two best known songs are 'All Along The Watchtower' and 'I'll Be Your Baby Tonight'. The former, Hendrix took and made his own with a definitive version. Gilmore's version sits somewhere in between without adding a great deal (which would be an impossibly tall order). And good as her cover of 'I'll Be Your Baby Tonight' is, it pales in comparison to the version fellow singer songwriter Eleanor McEvoy often includes in her live set.
But perhaps the best material is the unfamiliar - for example, the delightfully finger picked 'I Am The Lonesome Hobo', the beautiful covers of 'St. Augustine' and 'I Pity The Poor Immigrant', the jaunty 'Ballad Of Frankie Lee And Judas Priest', and the bluesy 'Down Along The Cove'.
So, curio or classic? Let's put it this way, it wouldn't be the album I'd recommend for those wanting an introduction to Thea Gilmore. But at the same time, she doesn't do bad albums, and fans will not be disappointed.
***½
Review by Pete Whalley
---
| | |
| --- | --- |
| | Print this page in printer-friendly format |
| | Tell a friend about this page |