THE RUDIMENTS Doctor Bone's Fried Medicine (2011)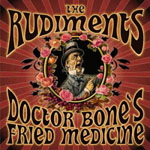 'Doctor Bone's Fried Medicine' is a wonderful piece of work. The Rudiments hail from Glasgow but are a glorious harmony band with west coast sensibilities. They might trace their musical antecedents back to the San Francisco coffee house scene and 60's bands like The Association, but they would surely also recognise the influence of the harmony singing and pop sensibilities of fellow Scottish band Del Amitri.
There are echoes of Buffalo Springfield, Simon & Garfunkel, The Mamas & The Papas, Crosby Still Nash & Young, The Byrds and Brit bands like Starry Eyed & Laughing, but The Rudiments have their own take on a summery vibe that comes from a mix of strong songs, glistening harmonies and subtly shifting vocal, instrumental and rhythmic colours.
And whoever 'the mythical Doctor Bone' may be, the production lovingly mixes the sparkling voices, guitars and choogling rhythms with the band's unique magical ingredient that makes this 7 track effort something very special.
'Doctor Bone's Fried Medicine' is startlingly good. It is 20 plus minutes of insistent catchy rhythms, 4 part harmonies, twinkling acoustic guitars and subtle brush strokes. Each line is a glistening jewel with an occasional rich harmony emphasis on one part of a vocal line to highlight the melody.
And unlike some of their contemporaries like Fleet Foxes, the vocals are an airy delight, delivered with a light touch rather than overbearing earnestness.
Sometimes the emphasis is more on the vocals as on the long harmony lines of 'Cardamom' and at other times there's a subtle shift to the train-time acoustic rhythms and bluesy harp of 'Start To Roll'. On 'The Last Hero of Switzerland' the listener is levered in with a gentle acoustic jingle-jangle and rich backing vocals on a song that is the perfect finish to a great mini album.
But the real triumph here is that the band is able to convey the joy of making music on an album with a real uplifting feel. 'For The Simpler Times' is the perfect opener with its insistent rhythm, layered organ, subtle chord changes and lush vocals which blend into the music seamlessly.
Like all good things it's over far too soon but offers you the key to an inspired musical kingdom full of some of the most evocative music it's been my pleasure to hear this year.
'Cardomam' is full of Beatlesque 'oohs and ahhhs' and while the Scottish accented lead vocal of 'On Yer Own' comes as something of a jolt, it is a perfectly counter pointed by some lush backing vocals. There's also the word play of 'Tetley Tea (Set You Free)' which has a mesmerising quality with 'call and response' vocals bathed in echo and reverb and post psychedelic backwards guitars.
'Doctor Bone's Fried Medicine' follows last years debut 'Along the Bottom' EP and suggests the band are taking things step by step. There's no sense of hurry and just like their music we should enjoy the moment while it lasts.
*****
Review by Pete Feenstra
---
| | |
| --- | --- |
| | Print this page in printer-friendly format |
| | |