THE ORBITSUNS Give The Orbitsuns What They Want
Three One Three Records (2011)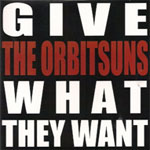 Much like The Beat Farmers and Jason & the Scorchers before them, the Orbitsuns focus on the crossover potential from what is now called outlaw country to kick ass rock. If you throw in a few hard driving riffs and a few less obvious influences such as the Honky Tonk bar room country tinged rocking of Mike Henderson, you have yourself an edgy alt roots rock band. And given the presence of former Sponge and Crud member Vinnie Dombroski this is a band that is never going to stray too far from hardcore rock.
There's much to admire about a band that has the songs, the chops, the intensity and enough adventurous spirit to ride rough shod over people's expectations. They explore several related musical styles as they power their way through 11 tracks that that bleed rock into country, transform punk energy into hooks and infuse their irreverent goodtime album with plenty of fiery playing.
That said, 'Give The Orbitsuns What They Want' is still an exercise in rich song craft as much as it is an exploration of their edgy rough hewn style. Perhaps that's where the connection with outlaw country resides, as in spite of all his bluster this album suggests Dombroski is never happier than delivering a potent chorus over a couple of significant chords. And as such he's happy to explore this interesting side project to feed his alter ego.
The album is nicely topped and tailed by the opening intense slide burst and sledgehammer percussion of 'Detroit Cold' and the almost irreverent whistle on the stripped down outro of 'Yeppity Yepper'. The latter nicely slams down the coal bunker lid on a set that bursts at the seams but has well crafted songs at its core.
The band manages to incorporate both alt.country, hard riffing and impressive vocals on 'Drunk In The Pew' on which Vinnie shows the value of his astute vocal phrasing. Then they delve into the slashed chords and punky edged urgency of 'Whiskey Prayer', compromising only on the country tinged 'Don't Let Your Sunday Morning Wreck Your Saturday Night' to settle on a country tinged, story based narrative with steel guitar and piano.
The Orbitsuns hail from Detroit and have obviously soaked in enough hard urban influences to rock with the best of them, but have distilled their song writing sensibility through an edge of town, Nashville colander to come up with a contemporary take on rock tinged roots music. They are too tough for MOR and country and despite the bombast their material is equally too well honed to rely on steely riffs and hi-energy alone.
'Give The Orbitsuns' is a real band effort from the collective writing credits to the harmony singing and big chorus of songs like 'Long Walk With The Devil'. But they have the ability to shoot from the hip when required, as with the Keith Richard licks of 'She Said "Call Me" (Dirty Pussy)' and the glorious ragged edged, gnawing guitar, staccato drums and big crescendo of 'Mr.Don't Shoot Me With That Gun'.
You can almost feel the restless vibe that has carried Vinnie Dombroski through several high profile bands and led him to the Orbitsuns. This band is stylistically not that far from the more commercially acceptable Drive By Truckers or the rockier Deadstring Brothers, but they have something uniquely intense, creative and edgy to the max, to suggest they can carve out their own niche.
****
Review by Pete Feenstra
---
| | |
| --- | --- |
| | Print this page in printer-friendly format |
| | |