THE MISSION Neverland(2-CD)/Blue Edsel (2011)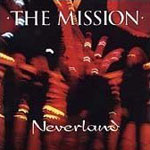 Formed by former Sisters Of Mercy Wayne Hussey and Craig Adams, The Mission found considerable success in the late 80s and early 90s and these two albums appeared in 1995 and 1996, just before the band split.
Neverland saw a slight revival in the band's fortunes which had wavered at the turn of the decade. Featuring a trademark gothic hard rock Mission sound, the production is often substantially heavier than on previous outings. From the dark goth of Sisters Of Mercy to the more rock goth of The Cult, the album occasionally moves into U2 territory too. Some fine moments indeed, but the experimental noise in "Afterglow" we can do without. "Stars Don't Shine Without You" is more laid back, dipping into World and programmed rhythms. Plenty more melodic and upbeat tracks that also feature some decent guitar work.
This has its moments, detracting from the monotony and sludge that many gothic albums suffer from, but does little to really grab you either.
Three hit singles, and a second disc of rarities, single b-sides and 2 covers that previously only appeared in German make for a decent package that will please fans, along with some well written sleevenotes.
The following year the band released Blue. This album split fans because, not that is was a bad album as it wasn't, it was just a little more mainstream. More indie rock'n'roll and less gothic. The opening "Coming Home" was a decent single, but tracks like "Drown In Blue" are more melancholic without the gothic black. The use of cello and programmed sounding rhythms helped both the change of sound and loss of fans. The album comes with 2 bonus tracks and extensive packaging too.
Both albums feature some decent moments, but neither are really essential Mission or Goth Rock.
***½
Review by Joe Geesin
---
| | |
| --- | --- |
| | Print this page in printer-friendly format |
| | Tell a friend about this page |