THE D PROJECT Big Face (2011)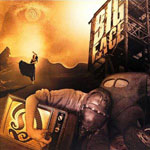 As well as Eastern Europe (and especially Poland) Quebec, Canada is starting to gain a growing reputation as a centre of quality progressive rock. The band Mystery is on everyone's minds at the moment with their superb album 'One Among The Living' and here are The D Project to reinforce that reputation.
The major similarity between the two bands, beside geography, is that both are led by superb guitar players, Michel St-Pere with Mystery and Stephane Desbiens with the D Project. Desbiens also adds keyboards and vocals, and this combined with an array of guest musicians (notably Bartek Kossowicz of Polish proggers Quidam) pushes this album to the forefront of all things prog-lovely from this side of the pond.
Not that you would call this album lovely - one glance at the lyric sheet shows that this is a band with a radical conscience - in fact, if the music wasn't so damned fine, the almost constant hectoring could grate after a while. Much talk here of death, destruction, suicide, bankers and oil leaks, but no matter, just leave the lyric sheet in the case on first listen and enjoy this for what it is - progressive rock of the highest order.
Nine tracks on offer here and it's hard to pick a high point, such is the quality, but the final track Poussiere De Lumiere (Dust Of Light) sung in French by guest vocalist Claire Vezina just about takes the accolade. A very small low point is, strangely, 'So Low' where the rather shouty vocals raise the hackles, but overall this album is as good a slab of progressive music as I've heard this year. Let's hope it's onwards and upwards from here.
****
Review by Alan Jones
Alan sequences "The Eclectic Mix" on the second Sunday of every month on Get Ready to ROCK! Radio, and usually manages to include some prog.
---
| | |
| --- | --- |
| | Print this page in printer-friendly format |
| | |