Just witnessed your best live gig?.. send us a review!
THE ANSWER, Stairway Bar, Glasgow
15 September 2011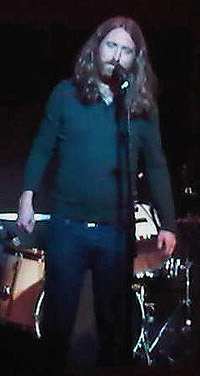 Don't you just hate early gigs, especially mid week ones, this session kicked off at 6.10pm so my wife and I made it through the door just as compere for the show, Tom Russell, was announcing the band's arrival on stage, talk about cutting it close!
Anyway, we were there to witness another of the Rock Radio Secret Session gigs, this time with Ireland's finest, The Answer.
As the guys were playing acoustically, drummer James Heatley had decided to sit the trip out so what we got was the other three guys, a guitar, a bass guitar and a vocal delivery that could probably be heard by James back in County Down.
It was a short, three song set with all songs culled from the bands forthcoming album 'Revival' due out soon, which the band wrote after finishing a massive support tour with AC/DC in mega stadiums across the globe. The Stairway Bar, with a crowd of about 60, was in sharp contrast then, but playing these new tracks live in such an intimate setting was probably just as nerve wracking as stepping out at Hampden Park.
The guys opened with 'Can't Remember, Can't Forget', then played 'Trouble' and 'Nowhere Freeway', all of which were excellent and if that is the standard of the whole album then it will be a cracker.
The main feature of the band's sound is the vocals of Cormac Neeson, what a voice the guy has, really strong with a lot of soul, he also bears a striking resemblance to Justin Lee Collins but I won't hold that against him!
The band will be embarking on a club tour soon to support the album release and have promised to do a tour of larger venues early in the new year. Try to catch them in these smaller venues now before they go global.


Review and photo by David Wilson
Interview by Mark Taylor
The Answer are on tour with Gentleman's Pistols
Thu 13th Oct 2011
Thekla (Bristol)
Sat 15th Oct 2011
O2 Academy 1 & 2 [Formerly Carling] (Sheffield)
Mon 17th Oct 2011
The Rescue Rooms (Nottingham)
Wed 19th Oct 2011
O2 Academy [1, 2 and 3] (Birmingham)
Thu 20th Oct 2011
The Duchess (York)
Fri 21st Oct 2011 The Answer
King Tut's Wah Wah Hut (Glasgow)
Sat 22nd Oct 2011
Tunnels (Aberdeen)
Mon 24th Oct 2011
Academy [1, 2, 3 and Club Academy] (Manchester)
Tue 25th Oct 2011
Waterfront (Norwich)
Thu 27th Oct 2011
Wedgewood Rooms (Southsea)
Fri 28th Oct 2011
Relentless Garage (Highbury)
Fri 4th Nov 2011
Ulster Hall, Belfast

---