TERRY HANCK Look Out Delta Groove DGPCD146 (2011)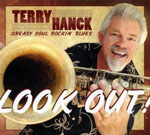 Terry Hanck's 'Look Out', is aptly subtitled 'Greasy Soul Rockin' Blues', as it owes much to sax players Red Prysock and King Curtis. And the tenor playing Terry is happy to bide his time and alternate between concise lead lines and gently applied tone colours on an impressive band outing.
Curious then that having spent ten odd years with Elvin Bishop's band he felt the need strike out on his own, as 'Look Out' has the relaxed air of a sideman leaning into a succession of soulful R&B grooves, emotive blues and shuffles. And given that less than half of the songs are self penned and include rather obvious choices like 'Ain't That Just Like A Woman, 'Train Kept A Rollin' (on which his solo achieves a gruff strangulated sound) and 'My Girl Josephine', you can either choose to put that down to wanting to revisit a classic R&B era, or simply a shortage of material
And while Hanck's solo's veer in and out of the arrangements, he does deliver some imposing lines on the beautifully sung duet 'Catch That Teardop' and adds a signature sax motif and a grainy toned solo on the mighty shuffle 'Appreciate What You Got'. He also adds a bluesy rap, an emotive vocal and honks like a good un' as he blows up a storm on the outro of a song full of wry humour; 'things are looking up, from down here on the floor'
'Look Out' is an album that impressively pays its respects to a classic r&b blues era, shifting from the languid but insistent feel of Chuck Willis's 'Keep A Drivin' to the Jump Blues of 'Aint That Just Like A Woman', on which Johnny Soubrand spiralling, conversational guitar lines cut across the jumping rhythm section before playing a few celebratory double lines with Terry. Terry meanwhile belts out a gnarled nasal vocal on the slow blues 'You Coulda Let Me Go', delivers his best vocal on the slow burning self penned 'I Keep On Holding On' and leads from the front on a tough cover of the Freddie King instrumental 'Side Tracked'.
He finishes in top gear up with guitarist/producer Chris Anderson on the fiery opening lines of Ike Turner's 'Just One More Time' on which he blows imperiously as both guitarists tear it up.
'Look Out' is an album that cleverly draws from the past and recycles it into the present. Better still is the way his sax playing imperceptibly shifts from subtle accompaniment to burning solos and glues everything together, never more so than on the closing 'Just One More Time'. And as he shouts out an exclamatory 'look out that's a take', you realise old time R&B never sounded so good in such capable hands.
****
Review by Pete Feenstra
---
| | |
| --- | --- |
| | Print this page in printer-friendly format |
| | |