TEMPLETON PEK Scratches & Scars (2011)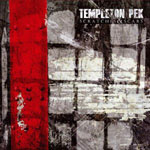 Lostprophets; move out of the way and make space for UK punk-rock trio 'Templeton Pek'. Formed in 2008, these guys have come along rapidly and are now ready to make it big time in the music industry with bucket loads of energy and an endless list of tour dates supporting more well known bands such as All Time Low, Rise Against and Funeral For A Friend.
'Scratches & Scars' is the much-anticipated follow up album to 2008's 'No Association', which gained expansive media coverage. Big things can certainly be expected after a three-year gap between albums.
The album kicks off with 'Calculate the Risk', which is only a taster of what's to come when it unleashes madness after around thirty seconds with an unbelievable amount of energy and a hugely catchy chorus to add to the mixture.
'Headgames' is up next with a slightly more average, stereotypical punk-rock sound but that doesn't mean that the soaring drive is sacrificed in any way as it upholds the fast-paced, head-bopping riffs. 'Barriers' compliments this beautifully and is sure to keep you wide awake while doing one of those mind-numbingly dull tasks that everyone hates. Might even leave you bouncing off the walls. Stuff the energy drinks; just feed your ears a good dose of this instead.
The first thirteen seconds of 'Low' make you jump to your senses and have a sudden realisation. Maybe they're calming down now? Oh wait, no, here come the punchy guitars to replace the tranquil strings that gave us hope of a rest. I think I've learnt now that you'll never get a rest with these guys and -Break The Habit' just reinforces my theory and makes it as solid as that wall I'm about to run into if I don't calm the hell down.
'Rotten in Denmark' has one slight difference to the other tracks on this album. You can finally hear the clarity of Neal Mitchell's surprisingly powerful vocals. The verses are slightly diluted so that the vocals are not lost in a fuzz of instrumental work. However shocking the noise they make is for a three-piece, it's nice to hear the front man clearly once in a while.
'Fiction Burn', 'Dark Matter' and 'Crosswires' carry on with the crazy theme seen throughout the album and this eventually blends perfectly into 'Red Lights Flash' which is track ten on this electric album. Admittedly, it's a slow starter in comparison to the rest of the album although when it does kick in properly after a short while of a calming heartbeat sound...just WOW. The pure potency will blow you away.
The penultimate track is 'Made to Waste' which is kind of reminiscent of Bullet For My Valentine; especially the darker and more mature chorus. This fades into 'Slow Burn' which is the final track on the album. You'd expect this to be the most vigorous on the album but it is far from this. No matter what, you always have energy remaining for the last track although I can honestly say this is far from what you would expect of any band never mind Templeton Pek! On the other hand, it allows you to calm down slightly to soften the blow of it being the end of the album.
Stock up on sugar before listening this because I'll warn you now; it WILL tire you out. That's the only bad point to it really; there could be a little more variation in rhythm paces because the constant intense beats will wear you out and could make the album a little TOO eccentric.
****½
Review by Abigail Suter
---
| | |
| --- | --- |
| | Print this page in printer-friendly format |
| | |