TEITUR Let The Dog Drive Home (2011)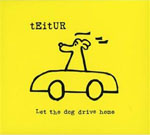 I'm always sceptical when artists get universal broadsheet acclaim. It's a bit like when a film wins a shed load of Baftas or Oscars, you just know there's a high probability factor it's not going to 'connect' with the masses.
And Teitur's last studio release - The Singer (2009) - his first UK release garnered such praise from the likes of The Guardian and The Times. But, to me at least, he's remained a well kept secret - until now.
His story is an unusual one - born in the Faroe Islands, he moved to Copenhagen at the age of 17 searching for a wider marketplace to broaden his talents. And over Northern Europe and America, he's done just that - his debut Poetry & Planes (2003) striking a chord with the likes of Suzanne Vega, Glen Phillips, Aimee Man and John Mayer - all artists he toured with.
While his second album - Stay Under The Stars (2006) - rested for months in the Danish Top 40 and yielded soundtrack material for the films Aquamarine and My Super Ex-Girlfriend.
Since that time, there's been The Singer, a UK only 'introduction/best of' All My Mistakes (2009), and for those 'back home' Káta Horniđ (2007) - a Faroese language release.
Which brings us neatly around to Let The Dog Drive Home, a self produced album recorded in the Faroe Islands and Denmark (where it's already in the top 10) which is already making waves in charts across Europe.
The first thing to be said is that from the digi pack and artwork, through to the album production, it's a beautifully presented piece of work - visually and sonically. And there's an artwork plea to play it over and over, and over … and over again! Which is a good 'steer' because, as they say, Let The Dog Drive Home is a slow burner.
Described by Teitur as 'night radio music' it seems that the closer to the Northern Lights you get, the more delicate and considered music becomes. If Paul Simon had visited the Faroe Islands instead of South Africa, Graceland may have sounded like this. Which, to my mind, means it's far more likely to strike a chord with those on the other side of the pond than red top readers here. But unquestionably a thing of quiet beauty.
****
Review by Pete Whalley
---
| | |
| --- | --- |
| | Print this page in printer-friendly format |
| | |