TANGERINE DREAM Green Desert Esoteric (2011)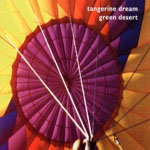 I confess to not knowing a great deal about the original 'Green Desert' from 1973. So I could approach this latest Tandream release afresh.
The first and title track is opulent. Edgar Froese is no mean purveyor of the dark arts of shredding. This is illustrated no more so than in the heady delights of 'Green Desert' which, apart from the inevitable synths, also feature some pretty wild and wonderful drumming courtesy (presumably) of Peter Baumann. This is no Ian Paice performance but it fits nicely with some of the ethereal string sounds which in 1973 may have been in there infancy yet still resonate well today.
The faster moving 'White Clouds' and 'Astral Voyager' could be classed as space rock anthems and definite forerunners to many of the electronic pop bands like Orbital, The Orb and Prodigy that followed later.
In this sense, no one denies the pioneering contribution that Tangerine Dream have had on this genre, but when we are listening to synthesiser music of a certain age, the sounds have been superseded by those most glorious which can tend to relegate these early albums to the role of preface.
The last track 'Indian Summer' is a case in point. Orchestral in its style, it nonetheless lacks the passion that Tangerine Dream slowly alluded to in subsequent years and certainly showed signs of here in the previous tracks mentioned.
Nevertheless you can trace the routes of more fulsome opuses which evoke a moving sense of place in later songs such as 'Yellowstone,' Bois de Boulogne,' 'Poland' and 'Long Island Sunset.'
'Green Desert' remains a worthy testament to Tangerine Dream without being its epitaph. Thankfully the fascinating battle against unwarranted media criticism continues unabated with new blood and renewed vigour.
Begrüßen Sie zurück Tangerine Dream.
***½
Review by Keith Thompson
Keith presents 'Rockwaves' on Get Ready to ROCK! Radio every Sunday at 21:00 GMT
---
| | |
| --- | --- |
| | Print this page in printer-friendly format |
| | |