TANGERINE DREAM Sorcerer Esoteric (2011)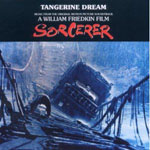 As a previously lapsed fan of Tangerine Dream who was suddenly awakened from slumber in 2010 by the recent dynamic performance in Manchester, the intriguing re-releases of classic 80's and the bewitching newcomer, 'Island of the Fay,' I nonetheless approached 'Sorcerer' with some caution.
Soundtracks are, by their very nature, underscores to films and so it follows that they should be seen in context to visuals. And yet the converse is frequently true. How often have we sat in a cinema or watched a DVD for the credits to come so we can find out who performed the music?
William Friedkin's "other" film helped 'Tubular Bells,' so why not 'Sorcerer?' Commercially neither film (70% on rottentomatoes.com) nor soundtrack buzzed off the other but both remain underrated works.
Deep foreboding is the overall theme as you would expect from Tandream around this era and yet it's not all about antique sequencers stuck in one arpeggio either. What distinguishes Tangerine Dream from other electronic bands of this and subsequent decades was the willingness to push back the frontiers and, lo and behold, bring in traditional instruments in songs like 'Impressions of Sorcerer' featuring stalwart, Edgar Froese on guitar.
The music is intriguing on so many levels. It is clearly a serious integrated work where picture and sound meld incredibly well. The soundtrack itself sometimes suffers from some occasional naivety in the application of sequencers during this decade of early development.
On 'Vengeance' for example, Rolf Harris on Stylophone appears to guest and yet the innovation in tracks like 'The Journey' and 'Grind' adequately compensate for the rather clumsy experimental noodlings elsewhere.
Overall a highly listenable landmark in electronic rock music, but not an album that I would imagine most would want to spend their hard earned on. Packaging, consisting of film art and related ephemera, is interesting If you are renewed fan like me however, try the Eastgate and Esoteric compilations like 'Booster IV' to get you back into the mood or last year's 'Island of the Fay.'
****
Review by Keith Thompson
Keith presents 'Rockwaves' on Get Ready to ROCK! Radio every Sunday at 21:00 GMT
---
| | |
| --- | --- |
| | Print this page in printer-friendly format |
| | |