TANGERINE DREAM Zeit Reactive (2011)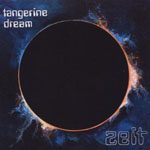 Bound by their emergence on Germany's experimental music scene of the late '60s as psych kraut-rockers and the more restrainedly commercial incarnation of today, resides the period 1970-74 during which Tangerine Dream forged a body of work upon which rests a 40-year international reputation.
At its epicentre, towers Zeit. Released in 1972 as a double album, its sprawling drone of then cutting-edge keyboard electronica hitched to occasional cello across four near 20-minute long tracks was unprecedented in its day.
Fusing early church and modern classical music structures with extenuated dark ambience, this highly-atmospheric creation reveals itself at a creep - the inverse of the onion, adding skins to the beat of a slow and brooding pulse.
Allegedly based on the philosophy that time is motionless and only exists in our own minds, the initially baffling, ultimately beguiling Zeit (the German for 'time') remains utterly timeless.
This lovingly-packaged reissue is boosted by a bonus disc's work of a live performance of the aesthically-compatible Klangwald Performance by the sonic pioneers in Cologne later that year. Little music truly reaches out to the stars with the purpose of Zeit. Too late to soundtrack the 'Star Child' sequence closing Kubrick's 2001 - A Space Odyssey, it will be the future perfect partner viewing a ship's gradual entry into the orbit of an unknown planet, pendulous in an inky void: vast, silent, unknown.
*****
Review by Peter Muir
Peter presents 'Progressive Fusion' on Get Ready to ROCK! Radio every Sunday at 19:00 GMT
---
| | |
| --- | --- |
| | Print this page in printer-friendly format |
| | |