Just witnessed your best live gig?.. send us a review!
TAKING DAWN
Camden Barfly, London 31 January 2011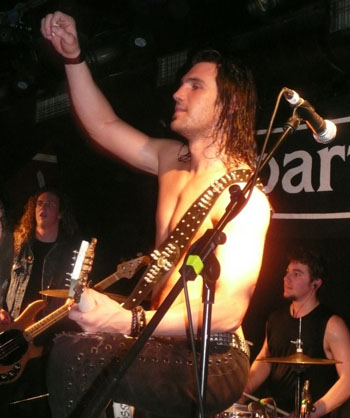 Everything goes in cycles , and Taking Dawn have arrived on the scene at the right time, the young Las Vegans unashamedly influenced by the era of long hair, and big riffs and choruses and bringing an exuberant, goofy sense of fun.
After an excellent debut album, Time to Burn, on Roadrunner, tours with Airbourne and Kiss and a Download appearance, 2011 sees them embarking on a full headlining tour and the Barfly, admittedly a venue little bigger than my living room, was packed to the gills with rockers both young and more seasoned, reflecting the buzz surrounding them.
They were warmed up by a half hour set from Godsized, whose grinding, sludgy riffs, Chris Cornell-esque vocals and long beards and tattoos screamed southern metal. Amazingly though, the south they hail from is Sarf London, Croydon to be precise. If your tastes range anywhere between Black Stone Cherry and Pantera via Black Label Society- who they are supporting on their upcoming tour- then they are worth checking out.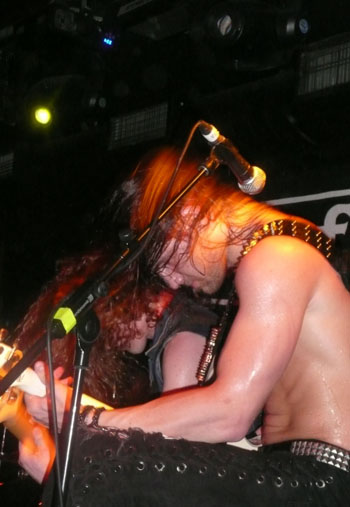 Taking Dawn's stage set, all flailing hair and synchronised stage moves, was almost bursting out of the small stage, and after opening with 'Save Me', with its big 'who-oah's, 'Like a Revolution' turned the centre of the floor into a huge moshpit, with the rest of us squeezed round the outside.
Singer Chris Babbitt belongs to a distinguished line of over the top, motor-mouthed showmen that goes back to Ted Nugent, Dee Snider and Seb Bach. He was a constant source of wisecracks and the odd incomprehensible remark. He also produced a hilariously accurate impression of Airbourne's Joel O'Keefe, who is cut from similar cloth.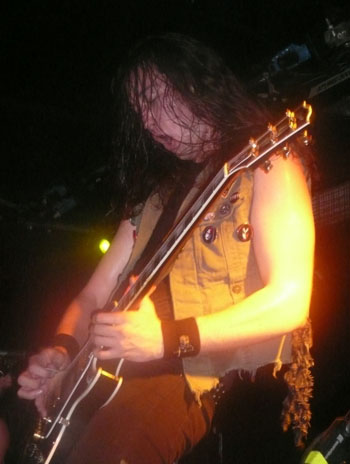 Their songs combine the brash aggression of an early Skid Row with twin guitars from Chris and Mikey Cross that are in Judas Priest or Queensryche territory. Virtually the whole of Time to Burn featured in the set, from the more commercial 'Endlessly' and 'Never Enough' to more frenetic numbers like 'Fight Em with Your Rock' and the expletive-filled, nu metal influenced title track, which predictably sent the mosh pit wild.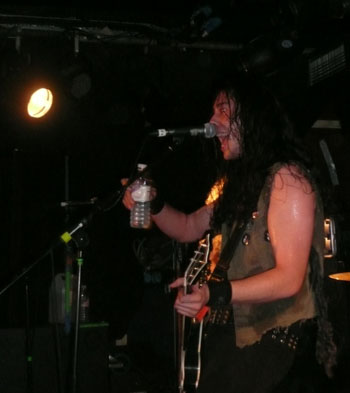 The set was bulked out by the addition of 'V', apparently from the special edition of the album, and a cover of 'Black Diamond', introduced by the classic line 'you wanted the best, you got stuck with Taking Dawn'.
However their song delivery is very different live, being twice as frenetic, twice as loud, but overwhelming some of the big hooks and choruses that made the album so refreshing for me.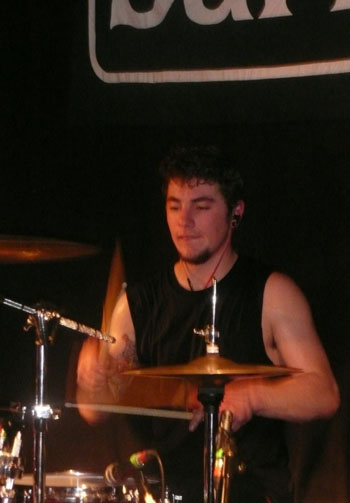 In particular, amidst his striking open mouthed poses and rocking out, Chris' vocals lacked clarity and precision. Being of a more melodic persuasion, I personally regretted this, but it seemed to make no difference to people's enjoyment of the show.
They ended a 65 minute set in fine style with the rapid-fire So Loud and their souped up cover of The Chain, with a great moment as Chris leapt off the stage, raced through the crowd and saw the song out playing guitar from the top of the tiny bar at the back. Better still, as I left the venue they were good-humouredly hanging out with fans and signing merchandise.
If you missed this tour, I suspect that next time round you will see them in the bigger venues where their exuberant show belongs.
Review by Andy Nathan
Photos by Nicola Dexter
---