SWEET JANE Sugar For My Soul Reekus Records (2011)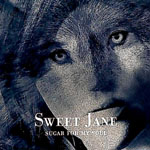 Named after a Lou Reed, Velvet Underground 1970 track, Dublin based Sweet Jane have much in common with the late sixties / early seventies - their sound being a modern day take on the darker underbelly of peace and love psychedelia.
A four piece, with lead vocals shared between Lydia des Dolles and guitarist Danda Paxton, the band are widely regarded, on home shores at least, as one of Ireland's brightest new talents. But their sound is a difficult one to pigeon hole.
For the most part it's a dark grungy and muddy indie rock sound, but the harmony vocals of Dolles and Paxton adding an almost Byrds like element, while Paxton's guitar work has a far more contemporary, Edge sound to it - for example, on the excellent set opener Bleed.
It's an amalgam that sounds like many, but no one in particular. The rhythm section of Ruairi Paxton and Donogh O'Brien lay down foundations that would do justice to some of The Stone Roses more driving numbers, while the melody lines echo as far back as the sixties and more recently to the likes of The Cranberries.
It's an album packed with deliberate rough edges that draw you in, a dark guttural, organic sound sweetened by Danda Paxton's guitar breaks and the vocal melody lines that seem strangely buried, for the much of the time, deep in the mix.
In many ways the U2 analogy is a good one, particularly when you think back to that band's debut album - a dense, murky, unpolished and almost hesitant first step. Only time will tell whether Sweet Jane will blossom and flower or crash and burn, but it's easy to see why they're developing a cult following.
Subterranean and moody - a compulsive loose blend of promise.
***
Review by Pete Whalley
---
| | |
| --- | --- |
| | Print this page in printer-friendly format |
| | |