Just witnessed your best live gig?.. send us a review!
STRAY,
Borderline, London 21 March 2011
Photos by Noel Buckley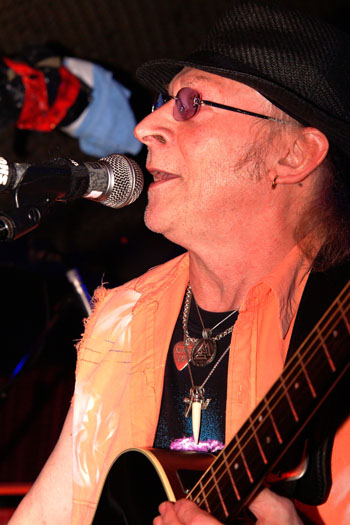 Checking Facebook before heading out to this gig, I noticed some friends drawing attention to a site called stillgigging.com. The phrase could have been made for veteran never-quite-made-it seventies rockers Stray, and in particular guitarist Del Bromham, who has been keeping the band name alive through incessant touring, and now a critically acclaimed album 'Valhalla' (GRTR!'s Best of 2009) which has given them a fresh shot in the arm.
Similar to Wishbone Ash's Andy Powell, as the sole remaining member he now also takes on lead vocals, and I arrived at a Borderline which was respectably full for a Monday (with a crowd almost all of whom must have been there first time around) to find him opening up with acoustic versions of some early classics like 'Queen of the Sea', 'Our Song' and 'Around the World in 80 Days'.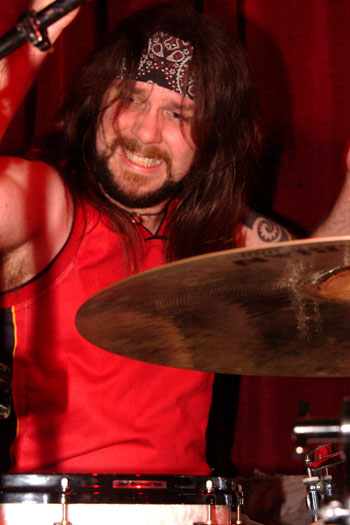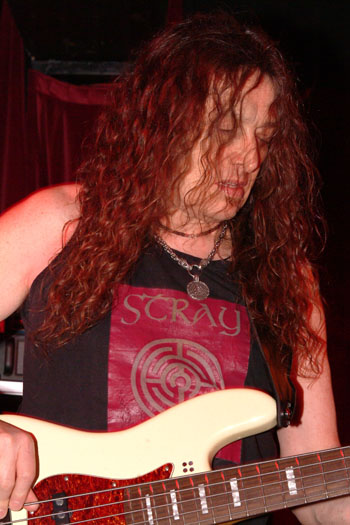 However the real fun began when he was joined by the hairy duo of bassist Stuart Uren and drummer Karl Randall to make a classic power trio, heavier than previous Stray line-ups I saw a few years back, beginning with the classic 'After The Storm', with a great riff and some Hendrix-inspired solos, making full use of the wah wah pedal.
The set went on to mix some very lively sounding new numbers - 'Move A Mountain', 'Skin', with old classics such as 'Mr Wind', and 'For the People', with Del playing a 12 string guitar, all topped off with his cheekie chappie humour.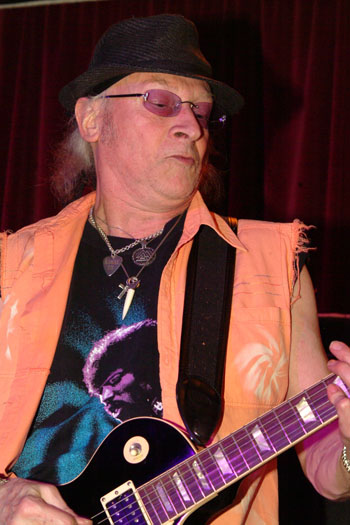 The man's dexterity on guitar, whether memorable riffs or rapid-fire solos, is quite something to behold and it is a travesty that his name never seems to crop up in any lists of all-time great rock guitarists.
'Time Machine', with its eastern-sounding riff and Del's fingers burning up and down the fretboard in a blur of movement, 'Jericho' and 'Suicide', complete with loads of feedback, all came across as epics reminding us how the early seventies was such a great time for unbridled freedom of musical expression, and that the Purples and Zeppelins were just the tip of a whole iceberg of great heavy rock music.
Yet for a band with such a history, the new songs were particularly impressive, in a classic Stray style but still with a modern freshness to them. In the case of the anti-war '1600 Pennsylvania Avenue' and 'Harry Farr', about the World War I soldier shot for cowardice, they also explored interesting lyrical themes, although Free at Last was a touch heavy for me.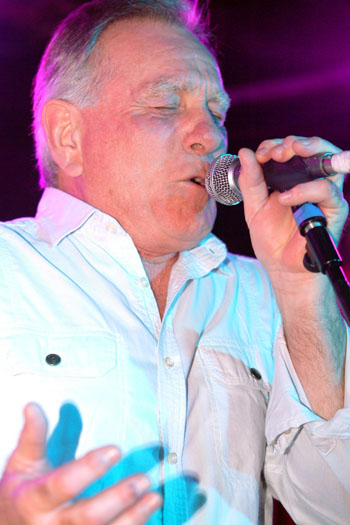 After 'I Believe It', which has a slower pace but built into another guitar tour de force, the equally 'geezerish' Pete Dyer, Stray's second singer from the seventies, was brought out from the audience to sing a couple of relatively commercial numbers from his time, 'Houdini' and the tongue-in-cheek 'Percy the Pimp', before 'Buying Time' saw Del 'do a Frampton' with a talk box.
He closed off the set with 'All in Your Mind', one of the songs that inspired Iron Maiden, with his guitar left hanging from the ceiling still squealing out feedback.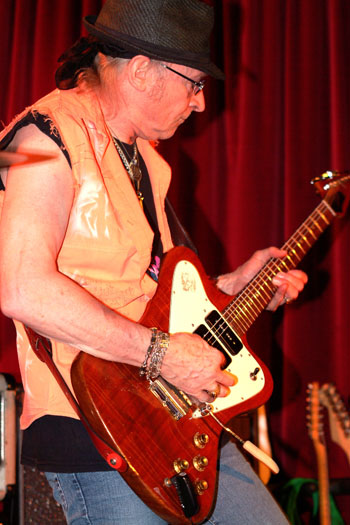 The encores were more conventional blistering 12 bar boogies – 'Hallelujah', segueing into a cover of 'Rock and Roll', and a supercharged version of 'Move It', once made famous by Sir Cliff (or Stiff Pilchard as Kerrang! used to call him). Incredibly they were on stage for just a tad short of 2 ˝ hours.
Having seen and moderately enjoyed Stray a few years ago, to hear them play with this intensity and vitality was something of a revelation and one I would recommend others experience.
Long may Del Bromham continue to rock.

Review by Andy Nathan
Photos by Noel Buckley
---