STORM WARNING Strategy Lightnin' Fingers Records (2011)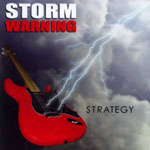 Storm Warning's 'Strategy' is every bit as classy and sophisticated as you might expect from a project involving guitarist Bob Moore. For Bob is one of the great underrated players in the UK whose touch, tone and feel put him above many of his contemporaries.
And while 'Strategy' is a fine band effort, it is the requisite Moore trademarks of subtle dynamics, restraint and warmth that make it special, as he dips in and out of a series of mellow grooves that emphasize everything from a melody to lyrical meaning. The 9 tracks flow from beginning to end and though the band sounds as if they could slip up a gear at the drop of a hat, they content themselves with exploring a series of subtle nuances that would surely make Peter Green smile.
The album opens with the atmospheric organ led 'Lonely Guy' which features a warm Mick Taylor style vocal from vocalist Steve Norchi's and closes with the delightful percussive and ethereal feel of 'Break Free'. It's a song full of mood and ambience that provides the perfect end to a fine cd. The rest of an enjoyable album finds Storm Warning exploring the ups and downs of ordinary life in a sophisticated bluesy tinged equivalent of Steely Dan.
Not for them the cliché of 'woke up this morning' or 'my baby done me wrong' but rather some welcome ironic humour on the tongue in cheek, funky middle aged lament of 'What Have You Done (To Me'); I used to rock, I used to roll, to the red hot blues or the northern soul, now when I come through the door I tune into Radio 4.
Much like the album as a whole, 'What Have You Done' is the successful result of experience, feel, perspective and originality coming to bear on the blues idiom as the band stretch out on the back of Ian Salisbury's mellifluous electric piano breaks and Bob's long linear guitar lines. And if as the album credits suggest thanks are due to 'the various focus groups who endured multiple pre master listening', then the final product suggests it was a worthwhile exercise, because this is a well produced album with solid songs and impeccable playing as evidenced by the concise instrumental 'The Chester Stroll'
Beyond some fine band interplay, Storm Warning's forte is their subtle take on the blues with unabashed relationship songs that sometimes stretch into self analysis, all delivered with a subtle production wash full of taste and poise. They sound at home in the studio and with the sonic possibilities it offers them as both guitarist and keyboard player imperceptibly shift their roles from accompanists to front line soloists.
There's a lovely fade in on 'Misspent Youth' on which vocalist Norchi sounds like the late great Colin Cooper (Climax Blues Band) on some cleverly double tracked vocals as he brings us the ironic salutary tale of an unrepentant hedonist; So I started popping pills but only on weekends, my daddy caught me and he said, "son you're gonna lose your friends , before an ironic denouement; I stand before you, I'm the product of a misspent youth.
And as if to emphasize their confidence with their own material and playing ability, they stay in the same mid-tempo range on the cool organ led 'Chocolates and Roses'. But there's a surprise when the mid-paced groove is transformed into a searing solo via by a sudden Santana meets Zappa guitar break (with accompanying percussive fills) before a perfunctory finish. It's the kind of production trick utilising a mid-number drop down that Kevin Shirley brought to Bonamassa's armoury and it works well here on a song that will surely become the centre piece of the band's live set
'Cold Hearted Woman' ups the tempo as the band glide towards a disguised staggered ending. And there's also the gentle undulating bluesy swing of 'Gonna Miss You', on another successful exercise in dynamics that leaves enough space and time for bassist Derek White to add a bass line fill, before Bob leans into another searing solo.
'Strategy' finishes with the very cool 'Break Free', which provides a beautifully judged ending to an excellent album. Storm Warning may wear their Robben Ford and Robert Cray influences on their sleeve but 'Strategy' is a fine work of their own making and one that should attract them some overdue attention.
****
Review by Pete Feenstra
---
| | |
| --- | --- |
| | Print this page in printer-friendly format |
| | |