STEEL PANTHER Balls Out Universal Island (2011)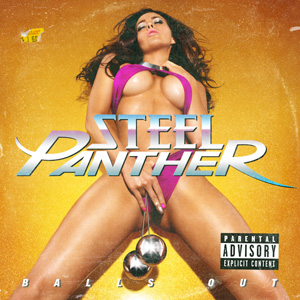 For those of you not familiar with Steel Panther, the easiest way to describe the band's act is part homage and part ridicule of the '80's Hair Metal scene. Ironically, you take away the tongue in cheek lyrics and what you are left with is perfectly crafted songs that are a very good representation of that era - the hooks, harmonies, choruses and big guitars - they are all there and they are all good.
What is even more ironic is the fact that Steel Panther are doing better than most of the bands of the era, especially some of those that have reformed and not done as well as they assumed that they would.
With a major label deal, worldwide touring, and fans that follow them like they were the real deal, in essence the band have pulled off the perfect 'Spinal Tap'.
That is not to say that it is not deserved, the band have cleverly worked this all out - starting playing '80's covers on the Sunset Strip, the band are popular with those they cover with the likes of Vince Neil, Tommy Lee, Sebastian Bach and Gene Simmons regularly joining their weekly residences at Hollywood's House of Blues over the last decade.
So to sophomore album 'Balls Out' which is a slick, well produced album that is primed to do even better than its 2009 predecessor 'Feel The Steel'.
Throughout the album's 14 tracks you are reminded of the likes of Slaughter, Ratt, LA Guns (the band fronted for a couple of years in the late '90's by Steel Panther's Michael Starr aka Ralph Saenz), Poison, Def Leppard, Extreme and a host of other bands from the late '80's.
First single 'If You Really, Really Love Me' is classic Def Leppard in style, 'It Won't Suck Itself' is reminiscent of Van Halen whilst 'Why Can't You Trust Me' is a great power ballad and the album is closed by the piano led ballad 'Weenie Ride'.
'Balls Out' may be tongue in cheek, and the songs based on a series of teenage sexual jokes but there isn't a weak track on the album, with other highlights including 'Tomorrow Night' and 'Critter'.
The danger of records with comedy value is that they can become stale very quickly, however, I can't see that being the case here as the songs are too well written.
Steel Panther play Camden on the 8th of November and can then be found supporting Motley Crue and Def Leppard on their December UK tour.
****
Review by Nikk Gunns
---
| | |
| --- | --- |
| | Print this page in printer-friendly format |
| | |