Just witnessed your best live gig?.. send us a review!
STACIE COLLINS & THE SLIM VICIOUS BOYS
Boom Boom Club, Sutton 11 July 2011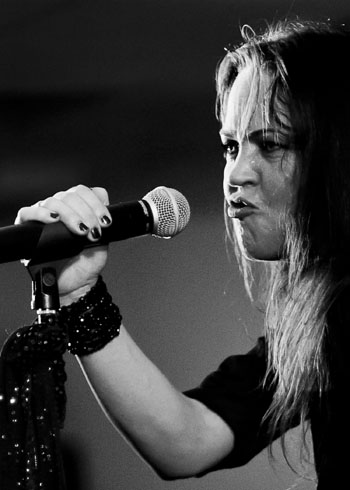 If you thought Nashville has never stretched beyond the gentlest confines of alt-country, then think again. With rockers like Paramore, Kings of Leon, Jack White and Dan Baird (Georgia Satellites) having all moved there and with the amazing guitar picker Johnny Hiland trading his country heritage for fiery rock on his new CD, there's clearly something stirring on the footsteps of the Grand Ol Oprey.
And if there is a discernible parallel rock & roll universe bubbling under in the old 'Music City' then it's surely epitomised by the kick ass rock & roll band that is Stacie Collins & The Slim Vicious Boys.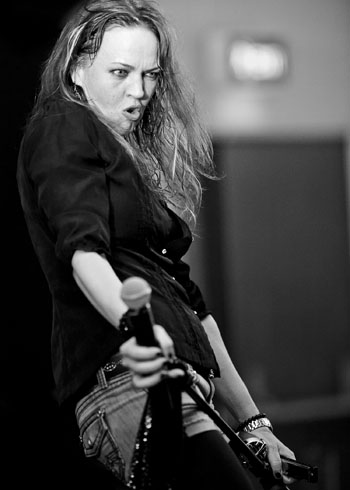 It was Dan Baird who saw enough raw potential to produce their 2007 album 'Lucky Spot' and with current Jason & The Scorchers bass player Al Collins in the ranks, and Scorchers guitarist Warner E. Hodges and Dan Baird both contributing to her current album 'Sometime Ya Gotta', this is a band with some pedigree.
But even a premiere musical pedigree doesn't prepare you for the sheer joie de vivre, let alone the one woman rock & roll explosion and on stage charisma of the hell blowing harp cat (or harp blowing hell cat) that is Stacie Collins.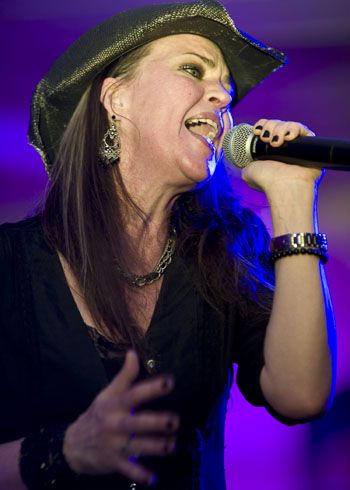 Playing to a crowd who took a leap of faith in checking her out, she came, she saw and she conquered with a set of roadhouse rocking intensity and a band armed with searing licks and a muscular undertow.

Rarely can such a keen sense of anticipation have been transformed so quickly into the kind of fist pumping fever pitch that Stacey managed to generate after a just handful of songs.
But it's a reaction easily explainable as Stacie and her Slim Vicious Boys launched into the kind of rip roaring, kick ass live set that so many dream about and all too few actually experience.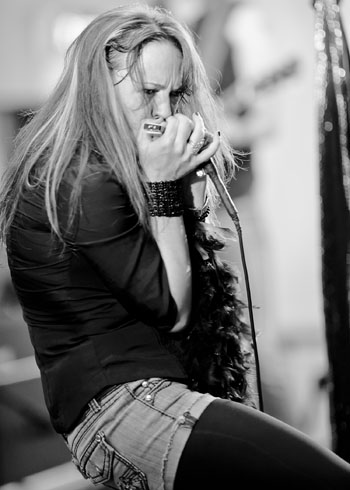 And aside from her stage presence which immediately connected with the crowd, Stacie re-drew the parameters of harp playing as she attacked her instrument as if with her last breath and with a body language all of her own.
One moment she stalked the stage and crouched down to hold a wailing note, the next minute she was bent over double as her cowboy hat hit the deck.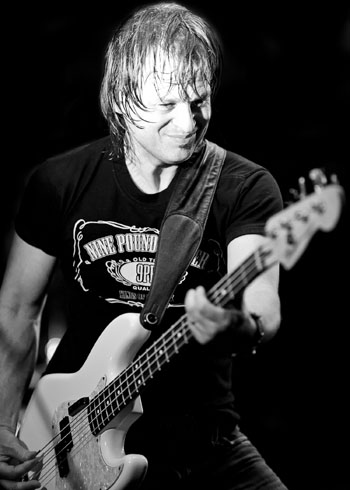 And later still, in the true traditions of rock & roll, she shimmied up to guitar player Tom Daley and later humped her bass playing hubbie Al Collins as she cajoled every last bit of effort from her band.
She danced, she pranced and wailed her way through a set of bristling vitality crammed full of retro, riff driven rock with a rough hewn alt country edge.
Guitarist Tom Daley cranked things up with some sharp edged licks that recalled a younger Keith Richard, backed by a seamless rhythm section versatile enough to go up, down or sideways at the merest wave of Stacie's harp.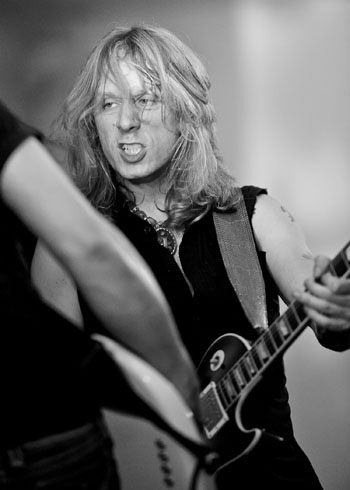 The band powered their way through a high octane set of roadhouse rock with an occasional country inflection on her vocal, as they explored their own impressive back catalogue with songs like 'Hey Mister' - one of the few self penned efforts that referenced the country antecedents of their musical home - the heartfelt stomp of 'Baby Sister' and the harp led country tinged rock & roll of 'It Ain't Love', while 'Tied To Me' came with a booming chorus.
They also found time to recondition Billy Boy Arnold's blues 'Ain't Got You', but it was on the riff driven rockers like 'I Won't Do Ya Like That' that the band started to stretch out and in the blink of an eye segued from southern roots rock into the fire and brimstone rendition of 'Jumping Jack Flash' via Stacie's stolen harp riff from War's 'Low Rider'. Stacie shook her mane of hair, boogied her ass off and hit the floor as she blew her harp like a hurricane, drenching the crescendo of the song in harp mic feedback.

It was in that split second rock and roll moment that you realised the crowd around had just gone ballistic and somewhere in the darkness of the edge of town, in Sutton, a new star was born.


Review by Pete Feenstra
Photos by Adrian Gee
---
Interview 11 July 2011
© 2011 Pete Feenstra/GRTR! All rights reserved.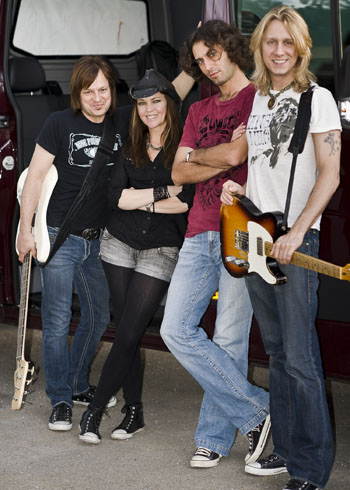 ---