SPLIT SOFA The Gathering (2011)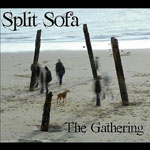 Split Sofa - great name for a band. Great band. Hailing from the Derby area in the East Midlands, it's hard to believe a band as good as this have managed to hide their light under a bushel pretty much since they were formed in 1999.
The reason might lie in the genre of music they play - but what exactly is that genre? Imagine, if you can, a psychedelic square with 'Day In The Life' era Fabs at one corner, 'Cirrus Minor' era Pink Floyd at another, 'Riders On The Storm' era Doors at third base and, believe it or not, Oasis in their pomp on the final corner.
Somewhere in the middle of this square of loveliness are Split Sofa who describe themselves as Psychedelic Retro Progressive Rock - and, for the want of a more concise description, we'll settle for that.
The Gathering is the band's fifth album and, for someone like myself who's never really been into psychedelia (with the valiant exception of the wonderful Ozric Tentacles), I approached this review with a certain amount of scepticism. I shouldn't have. This is an excellent album.
Ten tracks on offer and, with the possible exception of 'Take Me There', which sounds a bit like background music for 'The Avengers', I would describe the entire work as a triumphant psychedelic trip without need of the tabs.
Standouts for me are the opening track 'Circles' which sets both the tone and the standard for what follows, 'Waste My Time' with its wonderful soaring guitar work and 'Run From The Dawn' which has a piano figure to die for.
And mention must be made at this point of the guitar work throughout the album which not only spits, crackles and caresses in equal measures (without resorting to twiddly fret-wank), but also underpins the whole sound and feel of the work.
As I said, for someone who's never been into psychedelia this could easily be the tipping point - that moment when you suddenly 'get it'. Best thing to do is lie down on your sofa (split or otherwise) and let this ripple over you like a tide of raspberry blancmange. See, it's working already…
****
Review by Alan Jones
Alan sequences "The Eclectic Mix" on the third Sunday of every month on Get Ready to ROCK! Radio, and usually manages to include some prog.
---
| | |
| --- | --- |
| | Print this page in printer-friendly format |
| | |