SOCIETY A Crooked Mile Society 002 (2011)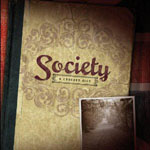 From their three part harmonies and west coast meets Nashville influenced material to the sepia tinged cd inlay, Society are a band who wear their influences boldly on their sleeve. And while their country tinged familiarity potentially offers them a lever into the heartland of America's mid west, it's also a facet of their music that threatens to hold them back.
'A Crooked Mile' comes from the pen of band leader Matt Wise who is smart enough to incorporate his band mates into well thought out arrangements which inevitably make the most of the trio's impressive three part harmony singing. And while the bulk of the album has all the essential ingredients for potential radio plays, they tread a thin line between country and the tougher edge Joe Walsh gave The Eagles. Put simply, 'A Crooked Mile' comes close to pressing all the right buttons and in Matt Wise the band have an overseer with a keen sense of his musical antecedents and country music's emotional pull. As a result the album is full of strong songs, telling narratives and defining choruses. You pay your money and you make your choice. You either go with the commercial impulses or you look to the wider canvas moments that make this album that bit more interesting than regular alt.country fare.
Songs like the down-home 'Davey' and the painstakingly arranged 'Judge & Jury' with its pristine harmonies and catchy hook, sound very much like The Band. Nothing wrong with that of course except it's a bye-gone musical era and Society should be making more of the past to carve out their own future. But the band's own style does reveal itself during the course of several outings, with the Dylan style intro of 'Wheels A' Turning' successfully working its way towards a country tinged slice of MOR with an uplifting chorus, while the Neil Young influenced harp and pedal steel intro of 'Light Of The Morning' leads into a carefully arranged waltz time song with poignant lyrics; 'And hope comes a calling and maybe you win, if you don't get the prize there's the rapture of sin'.
'A Crooked Mile' is an album full of well crafted songs with real commercial possibilities that derive their potency from lovely melodic sweeps and harmonic drifts. You need look no further than the opening track to appreciate the way the band make the most of their precisely delivered ascending harmonies that frequently soar in the middle of a line. But there's a cloying MOR tendency that dampens some of their best work. So while Society give us the intricate choogling rhythm pattern, impassioned singing and impressive stop-time dynamics of '40 Days', they waste their sparkling harmonies on the soporific 'Blues Flag'.
The undeniably catchy but ultimately undemanding country rock of 'Roll Home Sweetheart' also sticks too rigidly to the tired to old country clichés of a harmony laden chorus and recycled lyrics such as 'Lets roll home sweetheart I love you, the whisky don't love you like I do'. Then there's 'Days To Come' which is full of country intent and comes padded with jangling guitars and a chanted chorus.
Of course there's a big market for this stuff as evidenced by the success of bands like Rascall Flatts, its just that you suspect Matt Wise is capable of something a little spikier than MOR country. The band sound much better on the choppy rhythm and subtly nuanced pedal steel of 'Crawling Over Town'. The angst ridden lead vocal and insistent chorus sounds a little like Blanche, while the equally impressive 'Morning Star' overcomes a stuttering rhythmic intro to realise its melodic splendour with potent changes and a lovely intermeshing vocal and pedal steel on the kind of song that fans of Andy Sharrocks would surely recognise.
Society round's off the eleven track album with 'Martyr's Avenue', a song full of Jerry Garcia/Grateful Dead style staccato rhythms and more trademark harmonies. It's a well judged ending to an album that despite a few reservations ultimately reins you in with its harmonic subtleties, intricate playing and strong hooks. This is no mean feat for a trio from Brighton, who need only pay a little more attention to their own creative juices and less to the commercial demands of commercial radio to find their own inventive equilibrium.
****
Review by Pete Feenstra
---
| | |
| --- | --- |
| | Print this page in printer-friendly format |
| | |