SOCIAL DISTORTION Hard Times And Nursery Rhymes Epitaph (2011)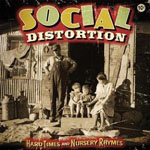 On home soil, highly tipped Saint Jude have that Faces / Jagger / Richards strut down to perfection (with the vocals of Lynne Jackaman adding that certain 'ooh la la ')). But more widely, there seems to be a proliferation, all of a sudden, of bands reinventing (or re-visiting?) the rock 'n' roll swagger of The Stones.
The name may not be overly familiar, but Social Distortion have been ploughing a similar furrow for over three decades. And let's face it, how many bands can tell their grandchildren they were brought onstage by Springsteen, just because he wanted to play one of their songs?
It's a long story, but over the past 30 years, the band's modus operandi hasn't changed much - Keef and Ronnie style bluesy rock 'n' roll music.
And with front man Mike Ness taking on production duties for the first time, the Southern California band may be about to take it to the next level. While Hard Times And Nursery Rhymes remains true to Social Distortion's roots, it sees the band super-sizing their sound to almost REM proportions - powering out of the gate with a huge swaggering and chunky Stones-style groove.
Think Michael Stripe fronting up the Stones because Jagger has a bad does of the 'turkey trots' and you won't be far wide of the mark. Put these guys in a Stones support slot and they'd bring the house down. And full marks to the band for the 'poster' style CD insert that has lyrics and credits which can be enjoyed without the aide of a magnifying glass.
***½
Review by Pete Whalley
---
| | |
| --- | --- |
| | Print this page in printer-friendly format |
| | |