Just witnessed your best live gig?.. send us a review!
SMOKEHEAD ROCKS, O2 Islington Academy
12 October 2011
ELECTRIC BOYS/JETT BLACK, MISS BEHAVIOUR, TAINTED NATION, DYNAZTY, SENCELLED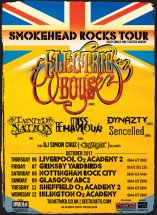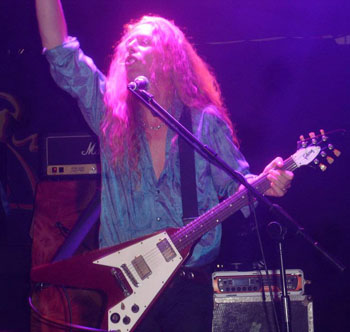 Time was when the term 'package tour' meant pink skinned Brits flying off on a budget airline to the Balearic Islands, but in 2011 it seems just as likely to refer to a bunch of Swedish bands heading over to the UK.
Houston and Crash Diet did it earlier this year, and now the reformed Electric Boys headed a bill which offered incredible value for money with six bands (four Swedes and two home grown) for just £12. In the circumstances, it was disappointing that the Academy was perhaps at best a third full.
Opening the bill just after 7, Sencelled could - to be frank - do with a metal equivalent of a Trinny and Susannah makeover, but musically speaking were a revelation.
Opening with I Wanted You and One Night Stand, they had bags of enthusiasm and a sound that mixed Scandinavian AOR with chunky power pop chords, notably on I Love The Way You Are. Carry On, even if it borrowed the chords from Summer of 69, ended an impressive 20 minute taster and I can easily see them opening up the Friday at next year's Firefest - if so you read it here first.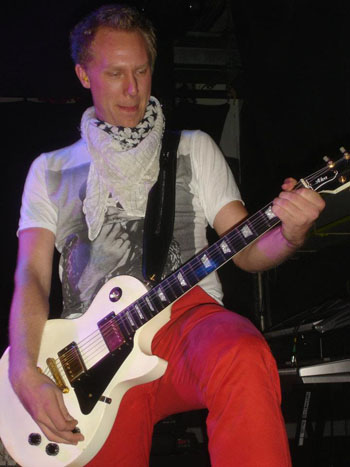 Dynazty provided quite a contrast - lean, long-haired and leathered, they presented the right image for a sound on the more metallic edge of melodic hard rock with the sound of early Skid Row or Lynch Mob.
Opening with an uncompromising pair of numbers from their new second album 'Knock You Down', Sleeping with the Enemy and New Sensation, singer Nils Molin impressed with his soaring vocals and there were technically skilled guitar pyrotechnics. Ballad Lights Out and set closer Bring the Thunder, with some great vocal screams, also stood out in a highly impressive set that left me wanting to check out more.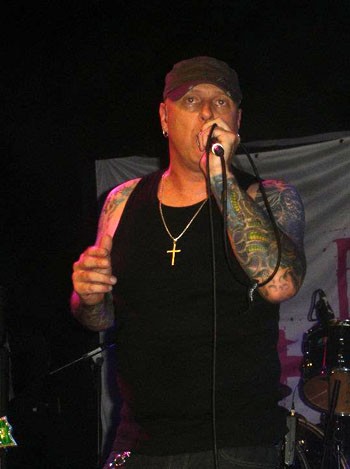 In between the Swedes, Tainted Nation brought a bit of down to earth English grit and humour to the proceedings. A new band but something of a 'supergroup' including Eden's Curse drummer Pete Newdeck now out front as lead singer, they were comparatively workmanlike and for me not in the league of some of the others on the bill, although the likes of Your Only Friend began to grow on me.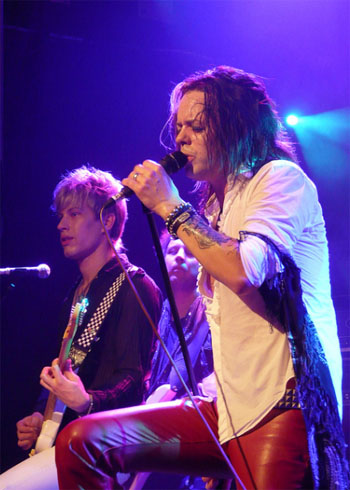 Photo: Joe Black
Having been on the Crash Diet/Houston tour, a bit of a buzz has been building around Miss Behaviour, and their classic Scandi AOR sounds with an added dash of some very pompy keyboards.
Unfortunately, as they opened with perhaps their two strongest songs, 1988 and Cynthia, singer Seb Roos seemed a bit off key to me, but they soon found their mettle with a longish set that seemed to showcase nearly all of the Last Man Standing album, with guitarist and my fellow mullet sporter Erik Heikne impressively fluid throughout. Perfect War, with its great 'we were strangers' refrain, and Give Me A Sign were highlights, but best of all ballad Till We Meet Again with a wonderfully melancholic vocal delivery from Seb.
---
In hindsight, trying to fit six bands into a single evening was akin to feeding the five thousand with a couple of loaves of bread and a few fishes.

---
The rest of this tour has featured five bands, but in London as a bonus we also had JettBlack who have been building quite a reputation. They have been pigeonholed as a glam or sleaze band, but for me they came over as almost a cartoon of traditional heavy metal, rivalling Airbourne for clichéd poses.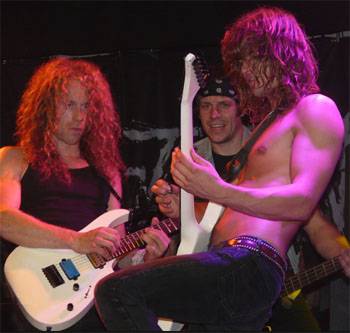 They have huge reserves of energy, but the singing, from a pair of wild haired guitarists in Will Stapleton and John Dow, was rather rough and the music more basic than what had gone before.
However with their full on commitment and catchy songs like Two Hot Girls and Get Your Hands Dirty, it was impossible not to warm to their enthusiasm.
In hindsight, trying to fit six bands into a single evening was akin to feeding the five thousand with a couple of loaves of bread and a few fishes.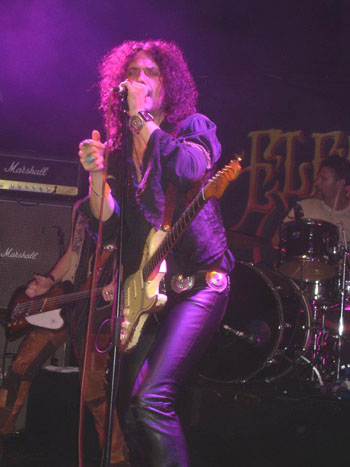 The night was running later and later with the unfortunate consequence of many fans who had come to see Electric Boys departing before they even hit the stage at five to eleven.
They wasted no time getting to business with the openers form their first two albums in Psychedelic Eyes and Groovus Maximus, and the ever charismatic Conny Bloom kept talking to a minimum.
Three songs from this year's reunion album And Them Boys Done Swang were aired - the oddly titled Father Popcorn's Magic Oysters, The House Is Rocking and the best of the three, Angel In An Armoured Suit, with the crowd clapping and singing along.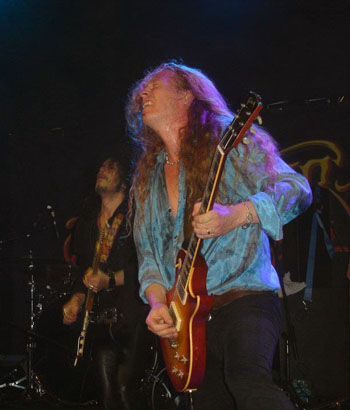 However it was the old material that the depleted crowd had been waiting for, and Electrified was little sort of sensational with a great groove as the guitars of Conny and Franco Santunione bounced off each other.
The gig confirmed my feeling that they were unfairly pigeonholed back in the day in the then fashionable funk metal movement, as their sound owed just as much to psychedila (as demonstrated when Mary in the Mystery World expanded into a grooving jam) and classic seventies hard rock.
Knee Deep In You was another where the band were admirably tight, and during Captain Of My Soul they again slipped into an effortless, infectious groove.
Sadly the set then ended abruptly, before they came back for the inevitable encore of All Lips and Hips, with the declining faithful at the front all shaking their respective things.
It was disappointing that such a fine, underrated band only got a 50 minute headlining set, but taken as a whole this was a great night showcasing six bands, very diverse in style but each 100% committed and offering great value for money.


Review and photos by Andy Nathan
Additional photography: Joe Black
---
---