SARACEN Marilyn Escape Music (2011)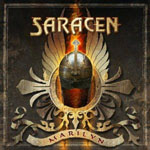 Saracen are back with a concept album based on the legendary actress Marilyn Monroe. The band are joined by four guest vocalists - Robin Beck (who steals the show it has to be said), Issa , Karensa Kerr and FM's Steve Overland plus original member Richard Lowe gets a thank you for helping in the 'Marilyn' concept, although he doesn't appear on the album.
After a instrumental intro 'Norma Jeane', featuring some lovely sax playing by Snake Davis, 'Wither The Wind Blows' brings in Saracen's trademark symphonic/pomp hard rock sound. 'Who Am I?' is a wonderful duet between Robin Beck and Steve Overland, whilst on the very catchy rocker 'Make This Body Work', Robin Beck sounds like a deadringer for Heart's Ann Wilson.
Beck again excels on the reflective 'Feel Like Going Home' and the album's closer 'Marilyn', which reprises part of the intro. Quick word on the booklet as well which gives a potted history of Marilyn's life, with each major stage in her life represented by a song.
Saracen have made another high quality album, full of enjoyable music and they made an inspired choice in getting Robin Beck onto the album, as she really adds to the album overall. If you enjoy bands like Magnum and have never tried Saracen now is a good a time as any with this new album.
****
Review by Jason Ritchie
---
| | |
| --- | --- |
| | Print this page in printer-friendly format |
| | |