RUBIK 1138 Rubik 1138 (2011)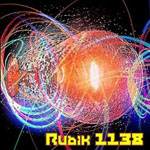 Ahhh, Rubik 1138 - where the hell were you when I really needed you?
Do you remember those Halcyon Days in the dim and distant past when you had righteously chosen the head-banging, heavy rock path to the Emerald City? At that time all you wanted was a band who ripped out tooth-loosening riff after tooth-loosening riff - Sabbath, Purple, Led Zep, anyone - so long as they rocked, had screaming guitars and made your ears bleed.
Fast forward forty years (yes, forty) and here are the band you would have sold your soul for - Rubik 1138, a high-octane riff machine from Mexico of all places, who've come to kick your arse.
This is the band's first foray into the studio, and although their naivete is there for all to see at times, their obvious enthusiasm for what they're doing shines through to make this, for hard rock fans anyway, a very satisfying album.
When you rock like this, vocals are superfluous so what you have here are seven tracks, all instrumental, all guaranteed to have you reaching for that old tennis racquet under the stairs.
Things kick off in grand style with 'Mr. Vertigo' which has one of those rocking guitar riffs you're certain you've heard before but can't quite place and which keeps re-surfacing throughout the track and always just at the right time.
The following six tracks don't disappoint either, and although the heavy rock template and its attendant riffing is never very far away, there are enough subtle touches here to ensure attentive listening. And with the nine minute 'Senorita Infamia' they've surely created one of the finest guitar wig-outs since Zappa's 'Willy The Pimp'.
So, I hear you ask, has it got any relevance to today's musical scene? Probably not if I'm honest, but there's enough of us still around who remember the excitement of those early, seminal days of rock, to make relevance irrelevant.
Where were they all those years ago? Still swimming around in their dads' whatsits probably, but they're here now, and for old rockers like me and you this is an opportunity to slip back into our youth and make like it was 1970 all over again.
Now where did I put those loon pants?
****
Review by Alan Jones
Alan sequences "The Eclectic Mix" on the third Sunday of every month on Get Ready to ROCK! Radio.
---
| | |
| --- | --- |
| | Print this page in printer-friendly format |
| | |