RORY ELLIS Perfectly Damaged (2011)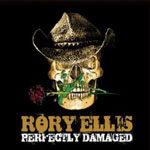 'Perfectly Damaged' is a classy, catchy, superbly sung album full of stories, self reflection, ironic humour and deep meaning. It's the kind of album that restores your faith in the ability of a troubadour having something significant to say.
Rory Ellis is one of the few singers who can phrase with such eloquence that he can bring his gnarled deep baritone to bear on even the most spurious material and make it sound profound. The fact that he writes heartfelt songs with lyrics that conjure up vivid imagery makes 'Perfectly Damaged' one of the roots albums of the year.
It must be tough working in the singer song writer genre, if only because the recent upsurge of interest in alt. country, americana, folk and roots music in general, means there's simply so much of it. But Rory Ellis proves there's no substitute for great songs and a breathtaking vocal. This is a man who intuitively knows how to use his voice and when to do so. Even the slightest vocal inflection brings real expression and feel to a clever lyrics and a wide variety of songs ranging from the humorous and spiritual to protest songs and the personal and reflective.
The music is a glistening melange of acoustic guitars, mandolin and banjo led instrumentation as Rory explores the deepest of meanings with his baritone.
The title track says it all, giving you an immediate inkling as to his wry take on life, as he emotes Howlin' Wolf style, telling us I'm not getting old, just perfectly damaged.
'Perfectly Damaged' is as engaging as it is slightly puzzling. From the opening 'Waiting For Armaguard' he keeps us guessing as to his real intent. Are we in for an album full of Randy Newman style irony or are we to deduce from the following 'Jesus Lane' that despite it all after all he's merely a true believer who doesn't wish to do more than gently scratch the surface of life?; Father can you tell me if my questions are obtuse, do you have some answers, the stories are so loose.
The following rag time feel of 'Street Angel House Devil' is a more definitive statement of what he's about, as he explores the micro grievances of having a 'rotten neighbour'; 'Liberace on pills couldn't smile like you did'. It's a song on which Rory shows his clever ability to focus on those small things in life that become blown out of proportion.
He sharpens his focus with brutal irony on small town friends on 'Not Much'; Couldn't make it to your show last week, cause I couldn't get off my couch, the footy's on the TV the fridge is full, and the little woman wants to touch… while 'PC Love' offers a slightly new take on vacuous on line relationships.
And if his baritone gives him an extra option with which to explore the meaning of his songs, it's his skill as a wordsmith that can transform even the most basic protest song such as 'Skeleton Hill' into something the listener can easily connect with; There's fight to save out chosen place from another landlord with a dollar eyed face.
His occasionally sharply contrasting songs are best exemplified by the juxtaposition of the light comic touch and Johnny Cash feel of 'The Gift - the story of an OTT drug bust in Devon - with the far more sombre 'Flesh & Bone', a tale of his own twins autism; I've got my own tongue, you'll never hear, so we'll walk under different sky's.
'Perfectly Damaged' glides in and out of country, folk, and blues with a glorious interplay of words and music. Quite simply this is a superb album worthy of major label status.
*****
Review by Pete Feenstra
---
| | |
| --- | --- |
| | Print this page in printer-friendly format |
| | |