ROGER GLOVER AND THE GUILTY PARTY If Life Was Easy earMUSIC (2011)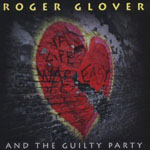 It's been a while since the Deep Purple bass player's last solo album, nine years in fact. But the man's not been idle. Since then there've been two albums with the Mark VIII version of the band (Bananas (2002) and Rapture Of The Deep (2005)). And, of course, he's never far away from a guest appearance or a stint behind a production desk.
And when you look at his CV, the albums he's played on or produced look like a veritable 'who's who' or rock, to say nothing of his participation in some of the finest rock albums of all time with the Deep Purple Mark II line up in the form of Deep Purple In Rock (1970), and Machine Head and Made In Japan (1972).
But as those who have experienced his previous solo work will know, it's not the stuff of those halcyon days. Instead it's much more relaxed, variable and laid back. Not perhaps, a zillion miles away in style from that of the other classic bass player of the era, John McVie (who incidentally was born in the same week as Glover in November 1945).
If Life Was Easy is a collection of songs written and recorded in hotel rooms, on tour buses and in a wide range of studios that reflects a turbulent decade in which he's experienced separation, divorce, injustice, uncertainty, new love, fatherhood, grand fatherhood, and losing his mother. That's a lot of highs and lows for someone who's passed state pension age.
So it's little wonder that If Life Was Easy takes things at a relatively sedate and gentle pace. And the contributions are shared widely. On vocals, amongst others, there's Glover himself, Dan McCafferty and Pete Agnew repay some Nazareth productions on one track, Mickey Lee Soule (ex Rainbow) turns out for another, and daughter Gillian provides some soulful grooves. Old muso acquaintances also turn out to lend a hand - singer songwriter Randall Bramblett on keys and vocals, Joe Bonadio on drums, Oz Noy and Nicky Moroch on guitars, as well as cameos by the likes of Don Airey.
Once you put any preconceptions of a heavy rock set behind you, and after the initial double take, it has to be said that If Life Was Easy is a rather enjoyable listen. The male vocals, whoever delivers them, tend to be in the nasally Clapton, Knopfler, Cash register and it's difficult to pin down any thread of continuity as the album waltzes gently through cod reggae, ska, rock and soul, blues, pop and country.
But that all adds to its subtle charm.
***
Review by Pete Whalley
---
| | |
| --- | --- |
| | Print this page in printer-friendly format |
| | |