ROBIN TROWER The Playful Heart Repertoire REPUK1142 (2011)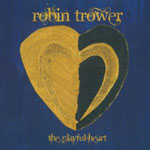 For an album that is grounded in a live feel and played by his tour band, Robin Trower's 'The Playful Heart' is a very polished affair. It's an album that offers more than simply rigorous professionalism, mainly because of Livingstone Brown - Trower's former American bass player and singer – whose production melds Robin's emotive guitar playing to his poetic eclecticism into an introspective blend of 11 songs that gently reveal themselves with repeated plays.
Both guitarist and producer subtly add colour and breadth to Robin's musical palate making the most of deep flowing tones, expanding grooves and weighty solos that contribute to an overriding feeling that Robin is on spiritual trip. Not so much a religious experience perhaps, as a guitarist at ease with his consummate playing style full of soulful nuances and fluid phrasing. And crucial to this album is the way his playing acts as an essential catalyst for his lyrical spark. The lyrics are important as he continues the interrelationship between his music and dreamy word plays to be found on 'What Lies Beneath'.
At times 'The Playful Heart' is a leap back in time to Robin's 'Song For A Dreamer' on Procol Harum's 'Broken Barricades'. It was after all the fusion of his Hendrix style tone and eclectic lyrics that gave him a successful solo career. The ghost of Jimi gently caresses this album, most notably on opening riff of 'The Turning' on which Robin references his own Hendrix influenced 'The Fool and Me'. There's also 'Dressed in Gold' which sounds like 'All Along The Watchtower' and a love song 'Maybe I Can Be A Friend' on which he further nuances Jimi with some gorgeous string bends.
But there are other influences at play. Both 'Friend' and the title track echo his recent work with Jack Bruce in its emphasis on vocals, lyrics and a dark moody feel. Even the wah wah guitar break on 'Not Inside – Outside' has a Cream dynamic, though as always the soloing envelops you as only Trower can
'Don't Look Back' is one of his best lyrically crafted song with three narratives in one on which Robin sings 'don't look back - there's to much pain, when you weigh the loss before the gain'. He digs deep on his closing solo to evoke the dark and almost depressing tenor of the song, but it's played with such an assured touch that his guitar rescues it from its gloomy subject matter and drags it to a restful conclusion.
The thoughtful sequencing of the cd means Robin's limited vocal range sits comfortably between his own solos on 'Dressed in Gold' and Davey Pattison's confident performance on the atmospheric brooding groove of 'Find Me', which is full of double tracked vocal and guitar. But Robin struggles with his vocal phrasing on the lyrically mournful rocker 'Song For Those Who Fell', which is counterbalanced by coruscating licks before an all too quick fade. It's the closest this album gets to his early rock/blues career and as such demands a better vocal.
'The Playful Heart' is further evidence of Robin's shift from his Hendrix rock and blues bluster to a more refined style. And though he's never really replaced the late great vocalist James Dewar, Davey Pattison steps up to the plate while Robin's best moments come when he lets his guitar do the talking in a quite beautiful exposition of sonorous magisterial beauty. Another perfunctory fade almost hampers the slow burning, radio friendly 'Prince of Shattered Heart', on which Robin cleverly adopts the world weary Mark Knofler approach that served him well on 'What Lies Beneath'. But he's less successful on the jazzy cool of 'Camille', a song that otherwise makes the most of space, time and dynamics. Similarly his misconceived dirgy vocal on the closing 'And We Shall Call It Love' is rescued by the kind of mellifluous solo that perfectly captures the feel of a slow sunset.
Long time fans will undoubtedly warm to this highly personal and at time poetic album which is not without its flaws, but if you buy into the dreamy lyrics and restrained moody playing you will enjoy a guitarist whose expressive playing leads him to a new atmospheric niche.
****
Review by Pete Feenstra
---
| | |
| --- | --- |
| | Print this page in printer-friendly format |
| | |