THE RIOTOUS BROTHERS Shout It Out RB002 (2011)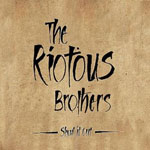 From the mock Atco CD label to their adventurous blues based music, The Riotous Brothers try to be all things to all people. 'Shout It Out' is a generous 14 track album that finds a workable equilibrium to accommodate the gravel voiced Mash Sonnet, the band's principal song writer and guitarist and the more understated vocals of keyboard player song-writer and producer Paul Long. Matt Lake provides the subtle undulating bass work and the band's natural exuberance is reined in and eloquently shaped up by economic drummer Dirk Maggs.
'Shout It Out' is a varied but coherent album and is the result of a confident band unafraid to explore the places their songs take them. It's a studio album full of well crafted songs that breathe enough to allow the band to stretch out into unexpected territories. There's the rockabilly opener 'Don't Stop Me Now', the muscular funk on 'Restless', the rock and roll bluster of 'Call My Baby', some unexpected pedal steel led country on 'Sweet Honey Chicken' and the good time boogie of 'Have My Fill'.
But it's on the heartfelt ballads that The Riotous Brothers really excel as they bring real emotion and feel to bear on subtle playing.
What makes the whole album work so well is that the band play to their strengths and makes the most of their musical diversity. They have also penned a handful of excellent songs on a wide ranging album that bristles with musical tension and is fired by the unfettered spirit of musical adventure. Perhaps it's that sense of unrestrained merriment that lends itself to the Riotous moniker?
Central to the band's energetic drive is the splendidly named Mash Sonnet who when not passionately belting out his vocal parts adds a wide range of tone colours to his solos. He virtually launches himself into the stonking opener 'Don't Stop Me Now', and adds two explosive fire cracker guitar breaks on the title track.
The following 'Restless' is one of several songs that start off as one thing and become diverted into something else, before returning to the original source. The tough riff driven rocker is fleetingly transformed by a coruscating wah wah guitar break and organ line into an unlikely dreamy Peter Green guitar sequence that cleverly evokes the title.
'Knock Knock' is also violently ruptured from its electric piano led groove, full of breathy diction and lascivious phrasing, by a double time break which pushes the dividing line between musical dexterity and feel, but still works well!
It's all good stuff and a refreshing departure from the usual unimaginative blues rock fare. And even on the more straight ahead rockers like 'Sweet Apparition' there are well thought out keyboard fills, intricate percussive patterns (from CSN&Y percussionist Joe Lala) and incisive guitar to retain our interest.
Paul Long contributes 3 songs of which 'Don't Turn Around' has real presence with an emotive vocal and cool dynamics that make the most of little pregnant pauses before an organ line levers in Mash's slow burning solo. The soulful 'Love is Dangerous' shares a similar languid feel and features Paul's best vocal performance as he briefly pushes himself into a falsetto range. It's a subtle arrangement with up in the mix drums and an alternate use of organ and electric piano which gives the song its layered feel, before another Mash stop-time guitar break. There's also a lovely sweep to the song as the guitar and organ intermesh and Paul emotes over ascending bv's.
And if Paul's gentle bluesy refrains impress with their understated subtlety then Mash's 'A Long Long Way To Texas' is the best track on the album. It's rare for a blues based band to come up with something as original and different as this. The opening string quartet and Paul's Eric Satie style piano line is the perfect foil for Mash's retrained vocal which perfectly evokes the feeling of the song, before a plucked string and acoustic outro. Simply gorgeous. He's nearly as impressive on the closing acoustic 'Bird of Peace' which provides a perfect finish with its lovely slide guitar lilt and flighty piano.
There's a touch of irony involved in the inner sleeve photo which finds the band advertised at an unknown venue after 2 nights of karaoke. And 'Shout It Out' musically maps out the sharp contrast between quality music and the disposable. 'Shout It Out' is not quite a five star deal but is the impressive sum of its adventurous parts being full of creativity, integrity and real spark. Seek it out, you will be pleasantly surprised.
****
Review by Pete Feenstra
---
| | |
| --- | --- |
| | Print this page in printer-friendly format |
| | |