Super showman who mixed funk and rock...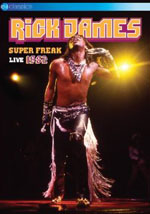 Dressed here like a cross between ABBA, KISS and The Sweet the flamboyant Rick James arrived on the scene in the late '70's from when he had a string of successful albums and singles on the Motown label.
This new live DVD was recorded for Germany's 'Rockpalast' TV show in 1982 when James was still touring his highly successful 1981 album 'Street Songs'. With a soul/funk/Motown disco sound and backed by the supremely tight Stone City Band, who do appear to have about 15 members on the stage, James appears to be at the height of his career.
Whether it be the funk disco of 'Big Time', 'Standing On The Top' or 'You and I', the funk jam like 'Give It To Me Baby' or the slower soul vocals of 'Big Day', you have to admire James' drive and energy. Then we have 'Ghetto Life' and 'Superfreak' - the latter James' signature track which was later sampled by MC Hammer for his massive hit 'U Can't Touch This'- and 'Love Gun' which unfortunately is not a cover of the KISS classic.
Bearing in mind James' later troubles with drugs, 'Mary Jane' is a full on ode to dope, complete with joint rolling actions. Guitarist Tom McDermott takes a full on rock guitar solo, which includes that Eddie Van Halen style tapping that was so popular at the time. There is also a bluesy harp solo from James himself.
Rick James died in 2004 aged just 56 - his later life marred by drug and legal issues, but turn the clock back to the early '80's and here is a musician that could have kept the world at his feet.
****
Review by Nikk Gunns