RICK DANKO Live Anthology Retroworld (2011)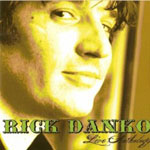 History tells us that it was the former Band member Rick Danko who discovered the Pink House in Saugerties, New York - aka 'Big Pink' - home for The Band and location for the groundbreaking 'Basement Tapes' with Bob Dylan and their own 'Music From Big Pink'. And the spirit of Dylan is never too far away from this rootsy double set which works it way through a solo opening cd, before Rick is joined by former fellow Band member Richard Manuel for a ragged but thoroughly enjoyable second session.
In fact although this double 'Live Anthology' will probably only be of interest to fans of The Band and Canadian rock compleatists, Rick Danko shows himself to be a spontaneous performer who aside from apparently not wanting too much volume in his monitors, is an adept performer equally at home with wide ranging roots music as reliving The Band's own memorable material. And cast adrift from his long-time musical home after the departure of Robbie Robertson and prior to their reformation of The Band with Jim Weider, Danko revels in an intimate club environment warming to his tasks with good humour and spontaneity.
Unsurprisingly, "Caledonia Mission", "Long Black Veil" and 'This Wheel's On Fire' all figure, albeit the latter is a sterling version with Richard Manuel on cd 2, alongside two other Band staples, the story narrative of 'When You Awake' (which features on both sets) and a gritty version of 'Unfaithful Servant', which all but anchors the second cd.
Danko offers erudite phrasing on 'Brainwash' and an animated performance of 'Java Blues', on two songs he co-wrote with Emmet Grogan, suggesting a song writing partnership with legs, while 'My Friend' could almost have been written about his own foreshortened solo career; 'A man who walks by the side of the road, can turn himself around, he can pick himself up and dust himself down and start all over again, my friend'.
But while Danko's plaintive voice makes the most off familiar favourites like 'The Weight' and Robbie Roberston's 'Twilight', 24 songs of mostly just a voice and guitar can be a lot to digest in one sitting. That said, he does rally near the end of the set with the yearning lyrics of 'My Love's All Imagination' and the short, but bitingly accurate 'Small Town Talk'
Disc 2 finds Rick in the company of Richard Manuel and the mix of piano and some gut wrenching harmonies add pith to a broad based catalogue of songs. The set opens with the impressive harmonies of 'Book Faded Brown' and a deftly delivered sparkling acoustic guitar and piano led version of Randy Newman's 'Ophelia' that leads into an interesting arrangement of JJ Cale's 'Crazy Mama', a Dylan influenced 'Don't Wait' and the oft covered Dylan penned 'Blind Willie McTell' which Rick makes his own.
The duo resurrect the Band's stop-start 'King Harvest' and emote on some ragged, stirring harmonies on Robertson's 'Chest Fever', confirming that Danko was a decent interpreter of song before they wrap things up with the growled out blues 'Everynight and Everyday'
'Live Anthology' is a good summary of Danko's ability as a performer and a vocalist who can phrase eloquently and bring out every nuance of meaning form a lyric. This double set is a coherent reminder of a much missed passionate performer who had much to offer in between his two stints in The Band.
****
Review by Pete Feenstra
---
| | |
| --- | --- |
| | Print this page in printer-friendly format |
| | |