R.E.M. - Life's Rich Pageant: 25th Anniversary Edition EMI (2011)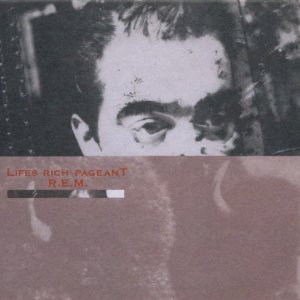 There was a time in the early to mid-eighties when those of us who had been introduced to the music of R.E.M. felt like we knew something that the world (outside of the U.S.) didn't - rather like Gollum in the LOTR and his 'precious'.
Rather than garnering the instant fame and fortune that seems to befall artists with only a gnat's chuff of ability these days, R.E.M.'s early albums, Murmur, Reckoning and Fables Of The Reconstruction, were a triumphant example of how a band with real talent and songwriting ability, godammit, can develop and thrive with a knowing, growing and appreciative fan-base.
The next release was Life's Rich Pageant and things would never be the same again.
It is now a staggering 25 years on from this release, and R.E.M. have teamed up with Capitol and I.R.S. (their original label) to release this rather wonderful box set to commemorate the anniversary.
So, what do you get for your hard-earned? Two discs, new liner-notes from top music journo Parke Puterbaugh, four art-cards of the band and a very nice A1 size poster, all housed in a card lift-top box.
The album Life's Rich Pageant is completely digitally re-mastered and sounds even fresher than the first time I heard it. The opening guitar riff of 'Begin The Begin' leaps out of the speakers and takes you by the hand through what is one of R.E.M.'s most satisfying albums.
With the exception of the rather throwaway 'Underneath The Bunker', every track is a gem - from the overtly political 'These Days' to the eco-socially-conscious 'Fall On Me' and 'Cuyahoga' ('let's put our heads together and start a new country up') to the acoustic loveliness of 'The Flowers Of Guatemala' and 'Swan Swan Hummingbird' (a personal favourite) all the early R.E.M. touchstones are here - chiming guitars, off-kilter lyrics and those wonderful, wonderful harmonies.
The second disc is a real bonus as well. 'The Athens Demos' pretty much does what it says on the tin - there are early demo versions of every track on the album, many of which sound entirely different to the finished songs.
In addition there are five early demos of tracks which would pop up on later albums, a very early recording of 'All The Right Friends' (one of the very first songs Buck and Stipe wrote together but which didn't surface until it appeared on the 2001 'Vanilla Sky' soundtrack) and 'Wait' which has never previously seen the light of day other than on bootlegs.
In many ways this was a sad album - not in a melancholy way, far from it, but because it was the start of their rise to mega-stardom. 'Document' came next and then 'Green' which catapulted them into the mainstream and 'the precious' was lost.
As Anthony DeCurtis noted in his review of the album for Rolling Stone all those years ago "for R.E.M., the underground ends here." He was right, unfortunately, but mere popularity can't take away the sheer brilliance of Life's Rich Pageant, and this anniversary release undeniably does that brilliance justice.
*****
Review by Alan Jones
Alan sequences "The Eclectic Mix" on the third Sunday of every month on Get Ready to ROCK! Radio.
---
| | |
| --- | --- |
| | Print this page in printer-friendly format |
| | |